The UEFA 2016 European Championship is finally over. In a match that will surely go down in history, Portugal beat France.
In a tournament filled with underdog stories, it seems that the Portuguese managed to deliver another one. With a star player like Cristiano Ronaldo, Team Portugal was an unlikely underdog. But with an early record of three draws and one loss, everyone was counting them out. They proved the naysayers wrong, though, as they beat Wales in the semifinals. Despite the championship now under their belt, the Portuguese did not have it easy, though.
Early injury
One of the Euro 2016 finals match's defining moments was when Ronaldo was injured. In the ninth minute of the game, France's Dimitri Payet collided with the Portugal's star. The two went down in a crash of limbs, with Ronaldo in the losing position. Though he struggled with this evident knee injury, it was too much and he had to exit the game in the 15th minute.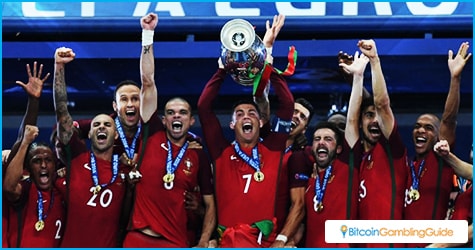 That was a huge hit. Ronaldo is a powerhouse striker and, though he had underperformed for much of the tournament, Portugal needed every advantage it could get. Live betting odds immediately shifted in favor of France, but they were already the favorites toward the middle of the tournament. Ronaldo attempted to return later but he eventually had to admit that his injury was too severe.
Portugal, however, did not give up. Surprisingly enough, the Portuguese managed to fend off the French onslaught. Throughout the entire game, the French made over 17 attempts at a goal. All of them were stopped by the team's skilled back line and its goalkeeper Rui Patricio. Unfortunately, the Portuguese offense was not as prolific. Portugal was in position to attempt a goal only six times in the game. This led to the game going into overtime.
Last-minute save
It seemed that the overtime was exactly what Portugal needed. The French team had been consistent in their attempts to penetrate the Portuguese defense, but it seemed that they were finally running out of steam.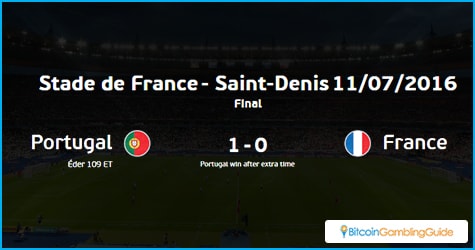 The end came when in the 109th minute, Eder managed to slip though French defenses and land a goal past France's goalkeeper Hugo Lloris. With time on their side, Portugal then solidified their defenses to stop the French team from tying the game. They were successful and clinched the win for their team.
This victory was a sweet one for Portugal. Though a powerhouse, the team has never won over France in any major tournament. Furthermore, the French have always been in the way of Portugal's trophy dreams.
This victory ends that 10-game losing streak that stretches as far back as 1978. For France, on the other hand, this was a big surprise. Many people were expecting France to repeat their 1998 World Cup win and continue their 18-game streak of wining home games. For those sports bettors who kept faith and placed their wagers on Portugal this is sure to be a big pay day as a lot of sportsbooks were giving them low odds of winning.