Sports betting is a big piece of the online betting industry. People like betting on sports events and online sports books make it a lot easier. Powerbet.io is just the most recent addition to the sites that offer Bitcoin gamblers a chance to wager on games all over the world. There are a lot of sportsbooks out there, but the site looks to be a great place for sports fans to spend their Bitcoin at.
More options are provided
The main attraction of Powerbet.io is that it covers a lot of sports events. In fact, it aims to have over 10,000 sports matches and games up for wagers each month. This is a good amount, large enough to give bettors several options. Some sports betting sites are limited in the amount of events that they allow people to bet on, but Powerbet.io tries to cover all the popular sports on the planet, ranging from football to boxing. If there is a fan favorite match-up coming up, bettors can be sure that it will be available.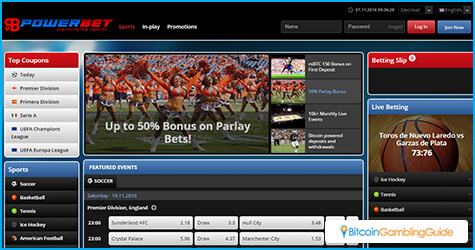 It is not just the wealth of sports events that Powerbet.io offers. Another attraction of the site is that it offers bettors a choice between pre-match betting and in-play betting. Normal sports betting is done before a game. Usually, a sportsbook stops taking bets on a match a few hours before it begins. This ensures that the wagers are locked in.
However, thanks to modern technology, wagers can now be done while the game is going on. It is a lot different from the standard way of betting, with odds climbing and going down as the match happens. It can be pretty exciting, though, to place wagers just as the action happens. Live betting on Euro 2016 matches, for instance, proved to be an exciting alternative for Bitcoin sports bettors, and this is just one of the things that await players at Powerbet.io.
Finally, Powerbet.io welcomes players with competitive odds. Sports bettors like to win, but they like to win big more. The factor that greatly determines the amount a bettor wins is the odds that the site offers. Not all sites offer the same odds. Sportsbooks are businesses and they want to earn a profit. The odds they offer are aimed to be attractive enough to bettors while ensuring they do not pay out too much in case of a win. Some sites take this too far and have unfavorable odds. Powerbet.io offers odds that are better than many others in the market.
Deposit and parlay bonuses offered
Besides all of the above options, Powerbet.io is also welcoming players with a couple of good bonuses. First, there is the 50-percent bonus on a bettor's first deposit. This may not seem impressive, but sportsbooks rarely offer first deposit bonuses. It also happens to have a six times rollover. Secondly, there is the permanent 50-percent win bonus on parlay bets with at least four wagers on them.
Parlay bets are multiple bets on a single slip, which means that they only win if all of the wagers on the slip happen. This is a long shot, but the payouts are often big. Add in an additional 50 percent that will automatically be credited by Powerbet.io and sports bettors will be really tempted.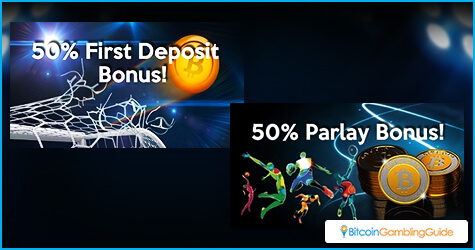 Powerbet.io is a new name in the sportsbooks market, but with what it brings to the table, people can expect a lot of great things from the site.
Powerbet.io gets the thumbs-up
Powerbet.io does offer a competitive package for Bitcoin sports betting enthusiasts, and this is the reason it becomes one of the better options for online players.
Bitcoin Gambling Guide recognizes what Powerbet.io brings to the table and reaffirms the site's efforts and services in providing quality Bitcoin sports betting. Recently, Powerbet.io receives the BitcoinGG Certificate of Trust seal. This confirms Powerbet.io's role in Bitcoin gambling.
With the seal awarded to Powerbet.io, BitcoinGG encourages players to check out the online Bitcoin betting services available on the site then share with the community their experience on the Bitcoin sportsbook.