PowerBet.io launched only recently, yet it already shows promising signs of becoming one of the leaders of Bitcoin sports betting. This should not be a surprise given that the platform offers over 10,000 sports events every month, along with a variety of PowerBet betting options and competitive odds. With new upgrades in its services, however, PowerBet.io looks to continue its great start in the market with the new PowerBet bonus and mobile version.
Improved deposit bonus for new players
PowerBet.io still wants to draw in more bettors, and it sees it fit to boost the bonus scheme to achieve its goal. This Bitcoin sportsbook initially offered a 50-percent bonus to all new players. Today, PowerBet.io gives a 100-percent first deposit bonus up to 200 mBTC.
Everyone can get this bonus once they register for an account and place their first deposit at PowerBet. Players would then need to place bets equal to the bonus amount, which depends on the amount of your first deposit.
They should, however, ensure that the bets they place must have a minimum odd of 1.60 for it to activate the bonus. The same rules apply for parlay bets, but at least one selection with the same odd will be accepted.
The bonus balance will automatically go straight to the player account once the rollover is completed. The bonus balance can also be used as bets. In the event that the wagering requirement of eight times the bonus amount has not yet been met, players will not be able to use the bonus amount for wagering.
PowerBet's new 100-percent first deposit bonus will help bettors to get started early in scoring wins in different sports events. They should just keep in mind to complete the wagering requirement within 60 days to enjoy the bonus amount.
Better accessibility through mobile
The new 100-percent first deposit bonus is just one of the changes with this Bitcoin sports betting site. PowerBet now assures everyone of easy and convenient access through smartphones and tablets. The mobile version of PowerBet brings an intuitive interface for players to continue placing bets on different matches wherever they may be.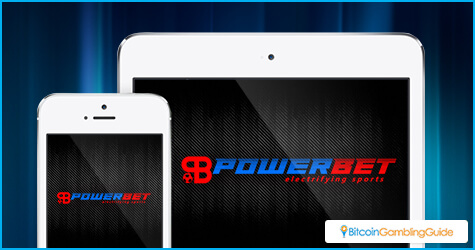 PowerBet.io's mobile version is also compatible with Android and iOS mobile platforms. This means players can access the Bitcoin sportsbook whether they are using a mobile device running on either platform.
In terms of the mobile interface, PowerBet guarantees players of hassle-free betting, regardless of the size of the screen of the devices they use. Players should expect a user-friendly interface that can provide the same level of ease when using computers to bet at PowerBet.io.
Meanwhile, PowerBet also offers a 50-percent parlay bonus to anyone interested. Parlay bets have at least four selections that are subject to up to 50-percent bonus on the winnings. Wins from these parlay bets automatically add to the amount won.