Now that a lot of World Cup qualifiers are underway, national competitors have come to a standstill. But later this week, the major competitions will resume their weekly battles. Some interesting games are on the agenda in the Premier League. A lot of surprises may be looming on the horizon, which creates plenty of opportunities for Bitcoin bettors.
A look ahead at the upcoming Premier League games
The first few games of the new Premier League season haven't disappointed anyone. Although not all of the results may have been to the fans' liking, surprises are not a bad thing either. Keeping in mind how the cup games and World Cup qualifiers are thrown into the mix as well, a lot of teams may start to show signs of fatigue very soon.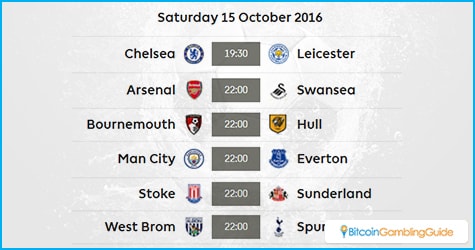 For those looking to bet on the Premier League with Bitcoin, there is a weekend full of exciting Premier League games coming up. Chelsea will host Leicester City in what is expected to one firecracker of a match. Although the reigning Premier League champions have disappointed a bit so far, they will have to pick up the pace sooner or later. What better way to do that than against Chelsea, of all teams? The odds clearly favor Chelsea, though as Betballer has them at 1.60, whereas Directbet has them at 1.55. An upset could net bettors a lot of money though, with returns of 5.6 and 5.91 times the original bet.
The game between Manchester City and Everton is one to look forward to as well. Manchester City always has to keep their Premier League title aspirations high, whereas Everton wants to secure a Europa League spot or better. While the gambling sites may favor City to win, one never knows what the blue side of Liverpool have up their sleeve. In fact, Everton has 6.85 odds over at Betballer, which is quite appealing to the average Bitcoin bettor.
Only two games will take place on Sunday, but they both have their own appeal. Middlesbrough takes on Watford, whereas Southampton takes on Burnley. This latter game is quite exciting, as Southampton has been putting up good results in the League and in Europe. Burnley has been off to a surprising start in the Premier League as well. Premier League fans don't want to miss this matchup, as it may be one of the best games among non-top teams this weekend. If Burnley were to win, bettors will receive up to 9.72 times their original bet.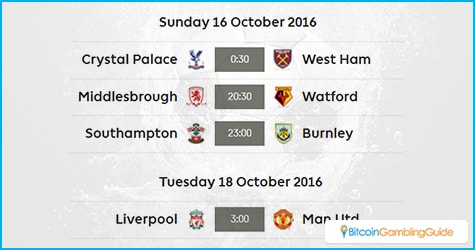 But the main event for the gameday is Liverpool hosting Manchester United on Monday evening. Both teams have plenty of history when it comes to playing against one another. Betballer sees the game in favor of Liverpool, with 2.09 odds. Directbet sees Man United coming out as the loser as well, with 3.55 odds for a United win. More often than not, these types of games will end in a draw, though. Odds for a draw are 3.2 on DirectBet, and 3.55 at Betballer.
It is clear for everyone to see there are no guarantees in the Premier League. While betting odds may be an indication of how games are expected to play out, one never knows what happens until the game is played. One of the beautiful things about football, and especially bigger leagues, is how anything can happen. For Bitcoin bettors, golden opportunities await for those willing to take the risk.