Bitcoin bettors who have been keeping an eye on the Premier League games last weekend may have seen some interesting surprises. Although the two goals scored by Zlatan Ibrahimovic were only a matter of time, the other games yielded some intriguing outcomes. Although it is still early in the season, the Premier League is not disappointing so far.
Second Premier League 2016-2017 matchday
Some real crackers were on the Premier League agenda over the weekend. Leicester City, the reigning Premier League champions, had their first big clash at home against Arsenal. Both teams had a bad start to the season, and the pace needed picking up. Such a game between two big teams should have yielded in great football, but that was far from the case. When all was said and done, the game resulted in a scoreless draw, which did not help either of them all that much.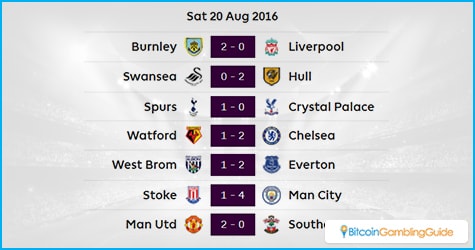 The game between Hull City and Swansea City would be a fixture most people may want to ignore. However, after Hull's surprise win against Leicester City in the first game of the season, the question became if the team could keep this momentum going. Their 0-2 win over Swansea goes to show Hull City is starting strong, and they will be a force to be reckoned with. Right now, the team is ranked third in the League, right behind Manchester City and Manchester United.
Liverpool is not seeing going through a positive period right now. The European football hopeful lost their second game of the season to Watford, of all teams. After the Reds won their first game in spectacular finish – by scoring four goals – they failed to put the ball in the net this game. A temporary setback, or a sign of things to come?
All in all, these games go to show the Premier League cannot be predicted by any means. Tottenham scraped by with the smallest difference in their game against Crystal Palace. However, now that Crystal Palace has signed former Liverpool striker Christian Benteke, they may be able to turn the ship around.
Joining the football action with Bitcoin
In fact, the transfer season is still in effect for a few more days. While it is not possible to use Bitcoin for betting on football transfers – unless by using a prediction market—these players changing teams will affect the rest of the 2016-2017 season. Nothing is set in stone just yet, as only four teams with the maximum of the points remain. Anything can happen during the 2016-2017 Premier League season, this much is certain.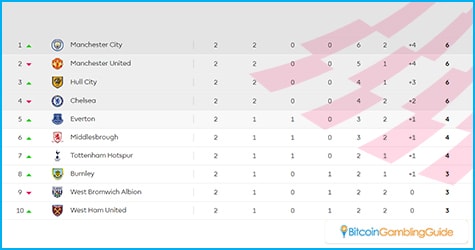 Bitcoin bettors may want to look ahead for the next round of games as well. Tottenham will take on Liverpool, and Manchester City will face a difficult customer in West Ham. With all of these games being unpredictable, anything can happen. For those who use Bitcoin to wager on Premier League games and make the most of the EPL bonuses, these certainly are exciting times.