Online eSports betting may not be as popular as the casino games, but this has been on the market for quite a while and is quickly taking over the Bitcoin gambling scene.
The term eSports basically means electronic sports, and this covers all competitive video games that are played online, often with and against teams. Today, the popular games that are played in tournaments, within a circle of friends, or among fellow gamers worldwide are League of Legends, DotA 2, Starcraft 2, and Counter-Strike: GO to name a few.
As more betting platforms are set up as venues for avid gamers to compete online and win BTC prizes, the eSports Bitcoin betting market is definitely off to rise as the newest trend in this industry.
Select gambling sites promote Bitcoin eSports
There are more than a hundred Bitcoin gambling sites to have ever graced the cyberspace but only a few offer bettors the ability to wager on eSports matches or games. One of them is Leetcoin, which debuted in 2013.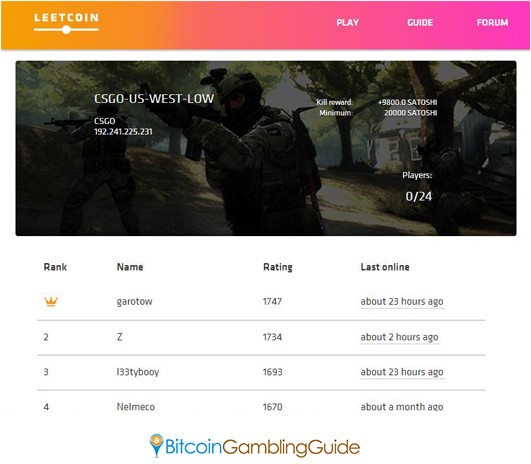 Leetcoin CEO Kingsley Edwards told Bitcoin Gambling Guide:
"The Leetcoin team is hard at work on becoming the largest skill-based eSports platform! We look forward to the mass adoption of bitcoin by gamers."
Currently hosting skill-based games like League of Legends, Team Fortress 2, and Counter-Strike: GO, this website promises to support more games in the months or years to come, hinting its goal to become the top Bitcoin eSports site on the market.
Other than Leetcoin, however, there are also those betting sites that recognize the growing trend and demand for eSports betting. An example for this is OneHash, a gambling platform that launched last year specifically for the World Cup in Brazil.
Expanding its market reach beyond online sports betting, OneHash now covers other events, including tournaments for DotA 2, League of Legends, Starcraft 2, and Counter-Strike: GO.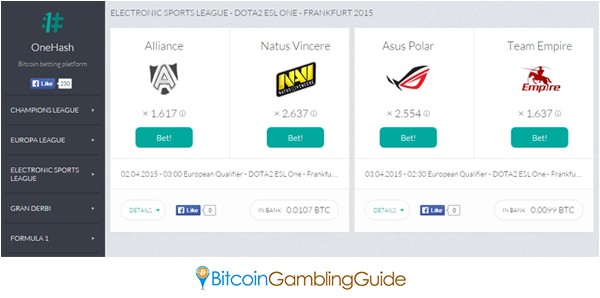 Meanwhile, even the popular Bitcoin sportsbook Nitrogen Sports also accepts BTC bets for the eSports market. Likewise, Vulcun, a website designed for online gamers to compete in online video games to win the largest prize pools, is considering adding Bitcoin to its accepted payment methods.
eSports niche expected to grow
By continuously injecting cryptocurrency into eSports, the rise of this market is inevitable. Nevertheless, it is still worthy to point out that despite its significant progress, there were still those websites that aimed to provide such services but failed to continue operating due to certain circumstances.
For instance, Bit.gg made a buzz in 2013 for being a gambling website dedicated for eSports fans, who can bet on options that yield a yes or no outcome. Unfortunately, it lacked the extra oomph to extend its stay on the market as its website is no longer accessible.
Another  Bitcoin eSports gambling site that ceased operations is Bitesports, which is primarily based on parimutuel betting.
Regardless, the renewed enthusiasm and interest on this market points to its strong chance to finally become one of the popular niches in the Bitcoin gambling industry, especially with the presence of the in-game currency HYPER. Bitcoin eSports is expected to reach the limelight in no time as the real-money players place a Noxwin bet, among others, on the online eSports betting scene.