Rio 2016 Olympics opens next week. With over 28 Olympic sports being competed over, this is a potential gold mine for sports bettors. The competition will be fierce as the world's best athletes gather in Brazil, all with one goal and that is to showcase their talent and be fortunate enough to win medals for their country.
One of the sports featured is tennis and, as one of the world's most popular sports, a lot of people are already starting to make wagers on how the results will turn out. Major sportsbooks like Anonibet and Pinnacle already have the odds prepared for both the men's and women's brackets.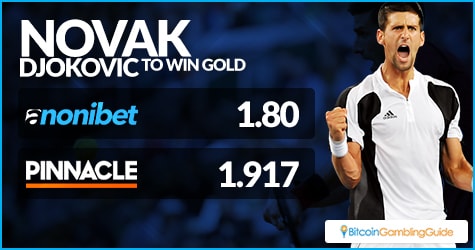 The Olympic format
Getting an Olympic gold medal in tennis would be the best payoff for the athletes. Since the Olympics is only done every four years, there are limited chances for tennis players to earn it.
This is so since entries are limited to per country so that even grand slam winners can find it difficult to get. This is why a lot of the sport's best players show up to compete. For those who like the thrill of betting on the best in the sport, this makes the Olympics a tempting time to place wagers.
Before betting, potential tennis sports bettors will need to know how the Olympics will operate the tournament format. There will be around 64 participants and each level of the event will be decided by a best of three sets. The finals will be much more demanding because they will be best of five sets.
A tiebreak will be active in each set so that the matches will not get extended. In addition to this, this will be the first Olympic tennis event that will not be offering ranking points for participating players.
An additional factor that affects the results of the matches is the condition of the court. Traditionally, South American tennis courts are clay-based, but this time around, the Rio officials have used DecoTurf hard court as their choice of flooring. This makes it more similar to North American courts. The South American weather can also affect how players play, with the heat and humidity wearing down player stamina.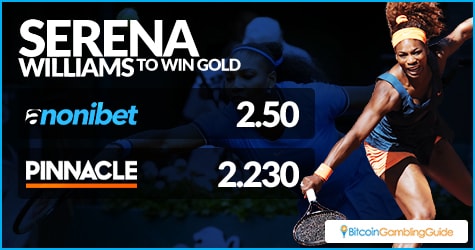 Men's and women's odds
Another factor is the fact that some players have decided to not show up. Milos Raonic, Tomas Berdych and Dominic Thiem are just three of the big names that skipped playing tennis in Olympics. This has seriously affected the odds of players to win since this takes away the chance of some players being eliminated.
For the men's division, the top favorite is Novak Djokovic at 1.9 odds. He may have lost in Wimbledon this month, but he is back with a vengeance. The second favorite is the Wimbledon winner Andy Murray at 4.8 odds. Trailing behind at third is the ageing Roger Federer at 9.1. As for the women's division, Serena Williams is the favored one at 2.23. She is followed by Garbine Muguruza and Angelique Kerber, but with a noticeably wide gap at 7.5 and 11.5, respectively.
Both Djokovic and Williams are once again favored by the sportsbooks and is seemingly a repeat of what was the expected turnout for this year's Wimbledon. However, if the likes of Murray, Federer, Muguruza, and Kerber pull an upset, bettors who wagered on them will receive a large payoff.
The men's and women's divisions are guaranteed to showcase tight matches, and this year's Rio Olympics looks to be just as interesting as this year's Wimbledon matches.