The Rio Olympics are in full swing and a lot of people are enjoying the spectacle of it. One of the main reasons countries compete in the Olympics is the chance to earn prestige by winning gold medals. With over 300 medal events, there are an equal number of gold medals up for grabs.
With over 11,000 athletes attending from more than 200 territories, the competition for medals can be really tight. Silver and bronze medals are decent achievements but the real proof that a country has the best of the best.
As a betting option, wagering on which country will have the most gold medals is a popular one. Sportsbooks like DirectBet are already taking wagers on which country will be the top gold medal earner.
Factors to consider
For those who want to make a wager on which country will be earning the most gold medals, there are several factors to consider. For one, the amount of participants a country sends needs to be considered.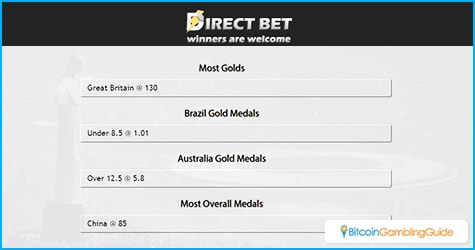 A country will not get a gold medal if they do not at least have a participant in the competition. The Olympics is an expensive affair and some countries do not have the ability to send a lot of athletes or even have athletes to begin with. Some countries only send two to three people for select events. On the other hand, there are countries that send several hundred competitors like the USA, China, and the UK, with teams to compete in football, basketball, and other team sports.
Another factor is the training. Competing with the best, sometimes the margin of victory is razor-thin. It can be a matter of inches or seconds like in the case of Usain Bolt in the athletics. To squeeze out that last bit of advantage will require a lot of training. This can mean everything from expert coaches to state-of-the-art training methods. A country with a dedicated Olympic program can help in organizing this.
Finally, bettors should acknowledge that sometimes athletes get lucky. There are off-days when sportsmen are not at their best. This can stem from being sick or from being tired. Their competitors would take advantage of this so that they can earn the gold themselves.
Top favorites
With all of these factors considered, a lot of bettors would be looking toward the richer and larger countries. This belief is reflected in what sportsbooks consider as the top favorites: USA, China, Great Britain, Australia, and Germany.
The USA leads the odds rightly. The country has the most participants for the Rio 2016 Olympics, with over 500 athletes in its delegation. It also happens to have some of the best athletics program in the world. China is close behind with 413 athletes and a harsh Olympics program. Performance from their athletes will be interesting to watch.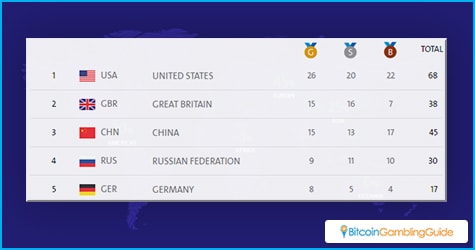 As of writing, the USA is in the lead of the medal race with 26 gold medals. China and Great Britain follow at 15 apiece, while Russia and Germany sit at nine and eight golds, respectively. Looking to advance to the top 5 are France, Italy, and Japan with seven gold medals each. Rounding up the top 10 spots are Australia and South Korea with six gold medals.
In terms of the overall medal count, the USA dominates with 69 Olympic medals—26 golds, 21 silvers, and 22 bronzes. China follows with 45 medals with Great Britain trailing behind with 38.
The Olympics are only halfway through, though, so it can still change. Interested parties should place their Bitcoin wagers now if they want a piece of the action.