Promoting an online casino can be difficult in a crowded market. Most of the time, the approach that gaming sites have is all about the promos and bonuses. This is often enough to get them a decent stream of customers. However, the real promotional effort is a lot more behind the scenes.
Affiliate marketing has been used by online casinos in a subtle way to ensure more customers come to an online casino. Instead of direct advertisements, affiliate marketing works by having affiliate marketers recommend and talk about a product or service. This is a soft-sell approach that a lot of people appreciate considering how in-your-face most marketing on the Internet is.
This is why it has become very popular with online casinos to have an affiliate marketing program. Riobet Casino is the most recent one to start affiliate marketing by partnering up with EveryMatrix for its PartnerMatrix affiliate program.
A smart move
Riobet's partnership with PartnerMatrix is an excellent move. As a growing online casino, Riobet has managed to take excellent steps since it first debuted in 2014. Right now, the casino services players in Kazakhstan, Latvia, Moldova, Belarus, Armenia, Russia, Ukraine, Croatia, Czech Republic, Cyprus, Denmark, Germany, Netherlands, Romania, and Serbia.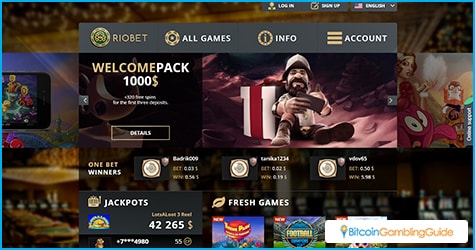 However, as an online gambling site, it could be able to reach a lot more players in different countries. This is why setting up an affiliate program is the logical step if it wants to continue to grow.
The people behind Riobet are aware of the need for expansion and have taken the best step they could to improve their business. This sentiment is echoed by Riobet CEO Vladimir Osipov:
"A long time ago we understood that we should work only with professionals. EveryMatrix is a professional in providing gaming and affiliate services, a leading company that builds new solutions using the latest technologies. Thanks to our partnership with EveryMatrix, we have been able to reach a new professional level."
Excellent features
PartnerMatrix comes with a developed software platform that allows for operators to have perfect control over their affiliate network. There are several features that set apart the PartnerMatrix platform from its competitors.
First, operators can merge or split affiliate and agent systems. This is the first affiliate platform that enables operators to run Affiliate System with Agent functionality, and Agent System with Affiliate functionality. No need to use separate programs or systems. It also allows for a flexible commission structure that enables accurate payments and satisfied agents.
Another important feature that the system can deliver is comprehensive tracking and statistics. All the data that an operator needs to know about the status of their campaign is available at their fingertips. It makes it easier to manage, especially with real-time reports.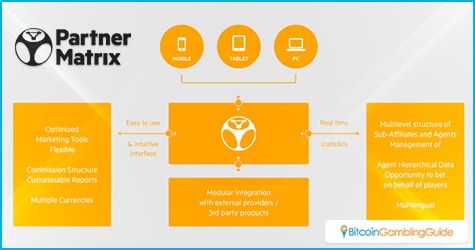 Finally, the PartnerMatrix package is easy to implement and customize. Depending on an operators needs and the market requirements, the platform can be easily configured to their preferred specifications. The interface is also friendly to the users, presenting them with everything that they could need to access.
With all of these features available, Riobet's new affiliate partnership should benefit the online casino as it continues to grow.