High betting figures and new features make Rollin.io one of the better choices when it comes to playing Bitcoin dice online.
With barely a year on the market, it already received more than 50 million bets from its global customers, and even registers more than 1 million bets a day from its loyal players.
Its user-friendly dice betting platform is but only one reason Bitcoin gambling enthusiasts favor Rollin.io more than the other dice sites. Players cite several other factors, and they pertain to the services, generosity, and credibility of both the site and its operators.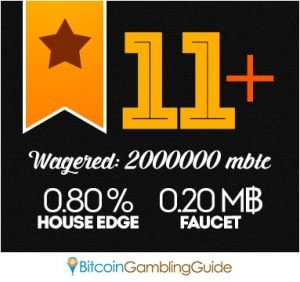 Based on user response, Rollin.io's leveling system sets it apart in the business since it gives players the opportunities to benefit from the perks of wagering more bitcoins. A higher level results in a lower house edge and a higher Bitcoin faucet amount.
Other Bitcoin casino and gambling sites offer free BTC through an integrated faucet, but the one on this platform registers what easily becomes the highest faucet, generating up to 20,000 satoshis for the top-leveled players.
Moreover, dice aficionados cite the addition of the leaderboards aptly called the 'Hall of Legends.' All players are tallied and ranked according to four categories—namely, Most Wagered, Most Profit, Most Wins, and Most Bonuses—and earn the bragging rights for making it into the top 10 list of the said aspects of the game.
Apart from these, having an affiliate system also works to its advantage, as evident in the opinion of its customers toward the program. Rollin.io pays affiliates 15% of its house edge, regardless of the referrals' wins and losses. It even offers higher commission rates for bettors who wish to maximize their income potential via a website, business, or blog.
However, if there would be a unique and exciting feature that will keep its platform dynamic, it would be its tip function that uses rainbot, a system that enables players to send bitcoins to 10 random bettors in the chat.
All these elements packed on a reputable website that provides simple dice gameplay demonstrate how Bitcoin dice Rollin.io will continue to grow in the industry in the future. More players are expected to patronize this dice site in anticipation to the Rollin 2016 New Year contests and giveaways.