One of the surefire ways to get online gamblers interested in playing online slots is by using beautiful and sexy women. Microgaming's Playboy slot and Play'n GO's Scandinavian Babes slot are excellent examples of how eye candy can lure in players so that they can start betting on these sexy slot games.
Playboy slot
The Playboy brand is recognized all over the world, especially for its highly popular men's magazine that features some of the most beautiful women on the planet. Microgaming has licensed the brand and some of the images to deliver a five-reel, three-row slot game that has 243 ways to win. The graphics are great, with the visuals that are made to impress.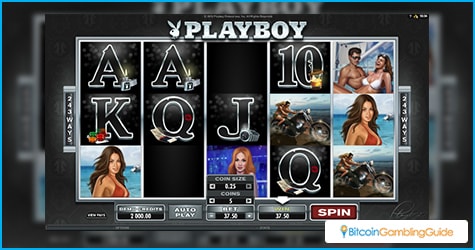 The gameplay itself is amazing. Players can set the level of their bets from 0.01 to 0.25. After that they can choose to just spin or go for the auto-spin, which lets them go through multiple spins without needing to click.
Bonuses come when three or more magazine symbols line up. There are four bonus games named after the girls: Kimi, Sofia, Ashley, and Jillian. These are activated after getting the required number of bonus games. The Kimi Bonus is always unlocked, the Sofia Bonus needs five activations, the Ashley Bonus will require 10 activations and the Jillian Bonus is unlocked after 15 activations. These bonus games give free spins and multipliers and some great graphics that surely look more than sexy.
If there is a downside to playing this game, it simply does not show sexy images of real women. Players who have no problems with this will see themselves spinning the reels of this Bitcoin slot more than they could imagine.
Scandinavian Babes slot
Play n' Go's Scandinavian Babes slot gives Microgaming's offering some stiff competition. Instead of drawn art, this slot game features video and photos of real Scandinavian babes.
Whether a player prefers blondes, redheads, or brunettes, the game has something to catch their eye. All of them are dressed sexily and when a player managed to snag their winning combination, they will get featured in a nice-looking animation pose. This is especially so when players manage to get a bonus game going.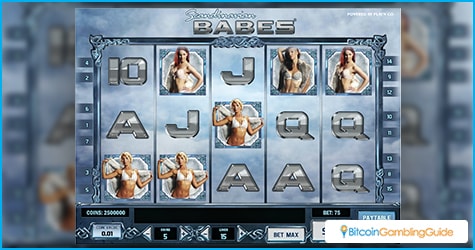 The graphics are top-notch and are a match for the gameplay. The game has all the standard features of a slot game and adds a few bonuses. For example, when a player activates a bonus, they receive 15 free spins and reels one and five become all wilds. This makes it easier to win and earn a big jackpot.
In addition to the increased chances of winning, the two wild reels feature a sexy babe dancing. An additional bonus game allows for more of the dancing action with the option to choose from three sexy dancers. Players can also double their winnings by guessing the color of a hidden card after a successful spin.
These two sexy  slot games are a great way to pass the time. If a player is interested in trying them out, they should drop by some of the better online casinos like FortuneJack. They can also catch these games on BitStarz, where they can possibly get lucky and win huge slot prizes. Better yet, players can place their Bitcoin wagers on BetChain Casino.