News of a leading digital currency exchange service getting hacked weeks ago surprised the cryptocurrency community. But ShapeShift.io proved to be persistent, as it is now back online with an improved set of security features and better services.
After the series of attacks made since the first hacking incident on March 14, ShapeShift.io went offline, and this led to the decision to completely restructure the online cryptocurrency converter. The revamp did not stop at giving the site a facelift, it even dug deeper into the core to add enhanced security protocols and methods.
As of writing, the new ShapeShift.io has already been unveiled and is tagged to be 'the safest, fastest asset exchange on Earth.' It currently caters to Bitcoin-to-Ether conversions.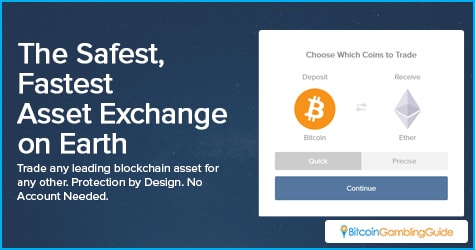 An inside job
As for the security breach itself, ShapeShift.io CEO Eric Voorhees gave some initial details on his April 8 Reddit post. First, he thanked loyal ShapeShift users for their understanding and quickly got into the details of the security breach. The most notable element of the post is his mention that the hack was only possible through inside help, which has already been confirmed in the recent update released by the ShapeShift team.
"On March 14th, ShapeShift had 315 Bitcoin stolen from its hot wallet. It was quickly discovered that an employee at that time had committed the theft."
Another important fact that Voorhees emphasized was the fact that no customer funds were compromised. Only ShapeShift's payment fund was affected. This does not affect pending orders, though, and those that were in queue would still be fulfilled. Further details of the ShapeShift security breach have come to light as the investigation progressed.
The breach itself was spread over three different thefts. The initial theft was in mid-March, when an employee stole over $130,000 worth of Bitcoin. When this was detected, the employee was quickly traced and fired. The problem was that the employee sold the information to an outside hacker. This data was then used to further steal $100,000 worth of cryptocurrency spread among Bitcoin, Ether, and Litecoin on April 7 and 8. ShapeShift was finally able to secure its servers by taking everything offline after the last hack.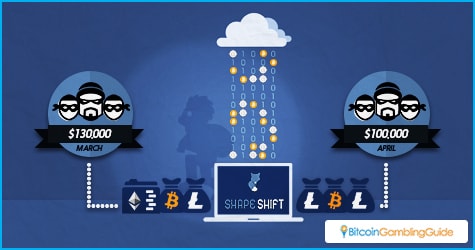 Gambling with ShapeShift.io
For Bitcoin gamblers, this security breach will not directly affect them, despite the growing trend that ShapeShift promotes altcoin gambling. There are other popular wallet services out there that can meet their needs. It will be a bit of an inconvenience for those who gamble in other cryptocurrencies. ShapeShift has also been making headway as a payment processor for Bitcoin casino and other gambling sites and this breach does put it on the hot seat. People can expect a bit of a slowdown in ShapeShift's attempts to spread into the market.
What this breach also highlights is the vulnerability of even the most secure network to be hacked with inside assistance. Bitcoin gamblers should be even more wary about their security to ensure that their funds are safe in the future.