Slotegrator Academy will hold a webinar on Jan. 27 titled "How to attract gamblers to online casinos". Nikolay Tuglukov, the leading sales manager of Slotegrator, will host the webinar and will cover a range of topics.
The primary audience for the webinar is operators and online casino owners. Anyone is welcome to attend the webinar regardless if he is new to the industry or is a veteran in the field. Investors or individuals even in the Bitcoin casino market looking to create their own gambling site will find the webinar useful.
"How to attract gamblers to online casinos"
Tuglukov will be covering four pointers during the Slotegrator Academy webinar:
Using the most efficient marketing tools to captivate the casino's target audience.
How the games of a casino can affect its popularity
Giving a project stand out from the rest in the industry.
An efficient method of retaining a casino's players. This includes tips on creating encouragement programs for a casino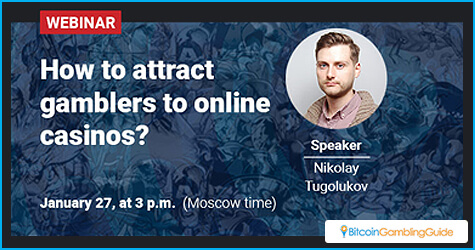 Tuglukov talks about the fourth pointer
"One of the main targets of any online casino is attraction of wide gambling audiences, thus the majority of online casino operators are concerned about this issue. However, another important matter is the ability to hold your gamblers down in your project via bonuses, free spins, gaming points, prompt money withdrawal. Everything mentioned above plays a crucial role in the profitability of your project".
To join the Slotegrator Academy webinar, participants can register at the Slotegrator website.
Georgia Gaming Congress, Telegram bot presentation
Meanwhile, Georgia Gaming Congress is coming up in March. Slotegrator's Development Manager Vadim Potapenko will discuss the company's latest Telegram bot.
Potapenko said:
"Taking into the account the fact, that chat bots are overtaking the market by gaining more and more popularity, they are definitely the future of the gambling industry. We believe that providing our gamblers with services through messengers is a very promising trend of the said sector.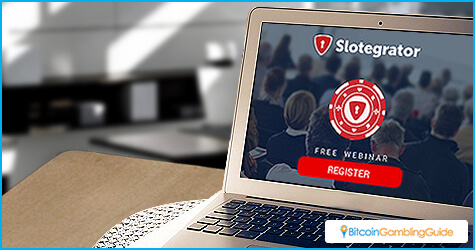 Telegram bot is a messenger app that allows users to chat anonymously. Slotegrator is looking to allow users of Telegram to play casino games directly in the app. Since the telegram app does not track or monitor its users, people in countries that prohibit online gambling can play casino games with the app.
He added:
"Our innovative solution will give operators an opportunity to overtake more locations and regions, especially when it comes to places with poor internet connection where there is literally no alternative to Telegram casinos."
Apart from the telegram app, Potapenko will also talk about how a chat bot works and how casinos can make the most of it. He will also talk about the benefits of creating an online casino bot on a Telegram app and will present a number of successful cases with Slotegrator's project.
Last month, Slotegrator held a webinar in partnership with Betsoft Gaming to talk about the importance of integrating games.