When people are betting on sporting events, they often make wagers on the outcomes of specific matches. The UEFA European Championship provides an effective opportunity for people to bet on multiple matches as the tournament runs for an entire month, with multiple games being held to determine the winners.
However, there are certain sports bettors who want to take the long view. Some of them would like to bet on the ultimate winner of the tournament or on how many points a certain player would score. For these sports bettors, there is the world of outright betting and special bets.
Outright betting wagers and odds
Outright betting and special bets are entwined with each other. "Special bets" is the term that is used by bookmakers on wagers that are not decided by the outcome of a match. Outright betting can be classed under that category.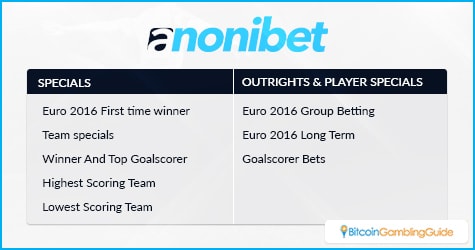 Outright bets are wagers made on the outcome of an entire season or tournament. This is a rather long shot since betting that a team will survive all the way to the finals can be chancy. Even the best teams may have a run of bad luck. There are other outright bet options, though. Bettors can wager that a team will reach or exceed a specific ranking. This is much easier since competitive teams can consistently get a high enough rank.
People like to wager on outright bets because of the high rate of return. A recent example of this was when Leicester city won the 2015-2016 Premier League. Football fans who made a £20 bet at the start of the season were looking at winning £100,000 when the team managed to clinch their winning position.
For Euro 2016, the main outright bet is who will be winning the entire event. The odds on Betcoin.ag are set at France being the favorite at 4.0 odds. The same odds are given over at Anonibet. This means that a player can win 400 percent of their initial bet. The team with the worst odds is Albania, which Betcoin.ag places at 401 and Anonibet at 500. Any bet on them will pay out big, but it will take a miracle for them to win.
Some additional bets
For those who do not want to bet on the ultimate winner, there are other bets being offered. Anonibet allows people to bet which teams they think will get into the finals. The odds for this wager are lower, because teams will have better chances. The top teams are France, Germany, Spain, Belgium, and England, with odds ranging from 2.7 to 6.0. Other bets on Anonibet are for the semifinals, quarterfinals, and the potential amount of total goals.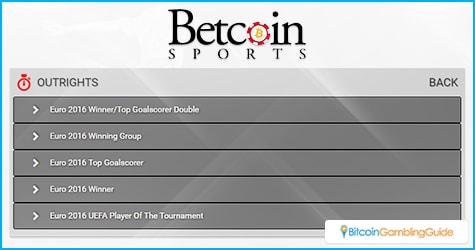 Betcoin.ag offers a different set of special bets. This includes who will be the tournament's top scorer and who will be the player of the tournament. The odds for these wagers are pretty high since it can be hard to determine which player will perform best.
With specific bets and high odds, sports bettors will appreciate the different special and outright bets. Not all sports betting sites have them, so potential special bettors should check around on which sites offer these bets on Euro 2016.