It was a battle on clay for the top athletes in tennis, and Garbine Muguruza and Novak Djokovic became this year's French Open title holders for women's and men's divisions, respectively.
This was Muguruza's first major title, and so was Djokovic's. With both athletes claiming their first French Open, nothing could be sweeter, especially when they both defeated two of the most respected tennis players in the world.
Muguruza ended Serene Williams dream of winning a consecutive grand slam title on clay, with a 7-5, 6-4 score card. Djokovic, on the other hand, crushed UK's Andy Murry in a four-set match, 3-6, 6-1, 6-2, 6-4.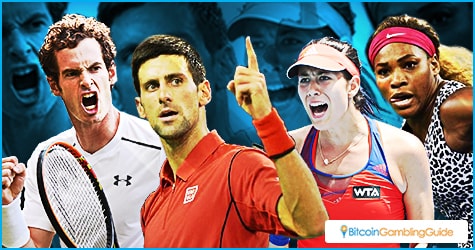 While their victory at Roland Garros was unmistakable, the sports bettors in front of the TVs and their computers also experienced some clay-court action with their pre-match and live bets on select online sportsbooks.
Surprise win for bets on Muguruza
The fourth seed may have already gained the experience but she lacked any evidence to prove it, and this is the reason Williams would have been favored to win. That is why her two-set match against the American tennis player has caused those who placed a bet on her to win at good position payout-wise.
A bet of the same amount placed on Williams in the pre-match would have resulted in a higher payout, given that the odds for the Venezuelan-Spanish professional athlete were higher than that of her opponent.  It would be a different story, however, with live betting. It was a close match for the top two remaining players in the women's single division, and the bettors who followed the game would have definitely felt the excitement in every swing of the racket.
As for Williams, her determination to add another grand slam title to her record this year was enough for her to convince the bookmakers that she still has the x-factor despite her age. Her journey before the French Open might have been shaky, but it is exactly these struggles that push her to claim every victory.
She, however, ran out of fuel this time around to snatch another win, and this was also how the bettors who favored her over Muguruza lost their bets.
Djokovic expected to win
When a top seed battles his runner up, it would boil down to who wants the win better. And this holds true with the final match in men's singles as Djokovic downed Murray. This win, however, made the Serbian athlete the third player to simultaneously win the French Open, Australian Open, US Open, and Wimbledon titles.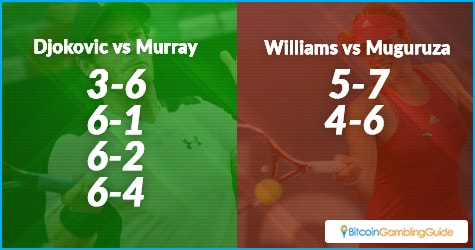 With Djokovic's display on clay, bettors can expect better performance in the next tournaments he will be joining. The Wimbledon is slated next later this month, and the odds should favor him over the other tennis players, including his old rival Murray.
Odds for Wimbledon to watch out for
Bitcoins sportsbooks like Nitrogen Sports, DirectBet, ands VitalBet should be releasing their odds anytime soon. As the Wimbledon approaches—with only two weeks left—expect these four to rise among the rest. Still, it is wise to never discredit the other tennis players.
As for sports bettors, choosing on which athlete to place the larger bet is the key to ensure profits in every match. There will be several tennis matches when Wimbledon begins, so prepare the Bitcoin bets for the entire tournament.