Bitcoin gamblers can look ahead at exciting football matchups. Although the coming week is all about World Cup Qualifiers, attractive odds are available for the upcoming Champions League games. As is the case with any football game, the outcome is never certain, and existing statistics hardly ever mean anything.
A look ahead at Champions League round five
If there's one thing to take away from the Champions League season so far, it is how surprises will occur at any given time. The next round of games becomes crucial for a lot of teams, as everyone wants to secure their spot for the next round. Less successful teams still have a chance of making it to the Europa League if they clinch the third spot in their group.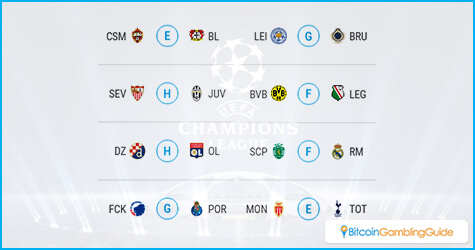 But that is what makes European football so attractive, as the odds are stacking against all teams right now. Those who want to advance have something to prove, whereas their opponents will not make life easy for them. Every game on the agenda has implications for those individual clubs, which create some appealing Bitcoin betting odds.
Any game in the Champions League is worth keeping an eye on, but matchday five of the group stages creates a lot of interesting options. Real Madrid, the clear favorites to go to the next round, will face off against Sporting Lisbon. It is doubtful the Spanish team has to expect any leniency from their Portuguese hosts.  If Lisbon could cause an upset, those 6.09 odds at Betballer may bring in big money for Bitcoin bettors.
A clash of titans is on the agenda as well, as Arsenal takes on Paris Saint-Germain. The odds are fairly balanced for this game, although Arsenal gets a small edge. In fact, DirectBet has Arsenal at 2.1 odds, although that number could change as the game draws closer. Both teams will find it difficult to outclass the other, and it may come down to whoever scores the first goal.
Other Spanish teams have very difficult games ahead of them. Barcelona will take on Celtic, and the Scottish team does not want to exit European football without a fight. Atletico Madrid is hosting PSV Eindhoven it what could be a nailbiter of a game.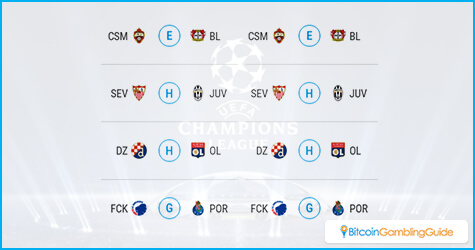 Odds favor Atletico, but for PSV, Champions League or Europa League is a top priority. Sevilla will host Juventus on Tuesda, Nov. 22, and both teams receive similar odds to win. A draw seems more likely, although that remains up to individual Bitcoin sports betting enthusiasts to decide.
Looking over the biggest odds, betting on Rostov FK to win over Bayern Munich could be worth a gamble. Albeit it is highly unlikely Rostov will win, the 16.99 odds at Betballer need to be taken into consideration. PSV receives 15.05 odds for winning over Atletico Madrid. But the biggest and most lucrative odds are on Legia Warsaw beating Borussia Dortmund, with 22.12 to one. Bitcoin bettors have plenty of options at their disposal—that much is certain.