The competition is tougher. The demands are higher.
The Bitcoin casino market years back is different from how it is at present, but it is a change that the online gambling community has been yearning for—highly anticipated as it hints nearing maturity.
Bettors are now exposed to myriad venues to satisfy their thirst for quality entertainment wherever they may be in the world, all connected to platforms that provide online gambling services in exchange for Bitcoin payments. Each website, although some may suggest similarities, offers vast collections of Bitcoin casino games, designed and optimized to cater to the evolving needs of players betting through their computers or mobile devices.
However, behind the significant leap in this niche market are the main proponents of what many regard as the improvements in the Bitcoin gambling sphere. The online gaming software providers that lend their technologies and expertise to power up a variety of websites through their Bitcoin casino software and solutions are responsible for this major shift. They are, therefore, instrumental in bringing this market to greater glory.
This leads to the question of which of the top Bitcoin casino software providers have what it takes to suit up for this task. Here is a rundown of the top three brands—Ultraplay, SoftSwiss, and CoinGaming—to gauge how the future of the Bitcoin casino market will be in their hands: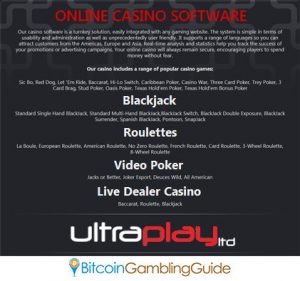 Ultraplay
Already in the business since 2010 but only serving clients starting 2013, Ultraplay has been the key for several startups and operators entering the lucrative world of online gaming. It offers an array of products and end-to-end solution, including licensing, marketing, and payment processing.
Its role in the Bitcoin gambling arena is not to be taken lightly as more platforms acquire its services, giving this growing market the Ultraplay flavor. Some of the brands it powers up are Ball2Win, GoBetGo, and Skedina. If these sites sound familiar due to their sports betting products, it is because this software provider also extends its list of specialties to hosting online sportsbooks.
In fact, Ultraplay also caters to other areas aside from casino and sports betting, such as lottery, dice, wheel, and even live casino gaming. This only reflects the goal set by its CEO, Dariy Margaritov, for the brand.
A quick overview of its list of UltraPlay casino games, however, reveals that it gives prime attention on the classic table games like blackjack, roulette, and even poker. There are 13 Bitcoin poker game variants, eight blackjack games, and eight versions of Bitcoin roulette. Therefore, operators or players who fancy the classic table games as well as their counterparts in a live casino must definitely check out the solutions designed by Ultraplay.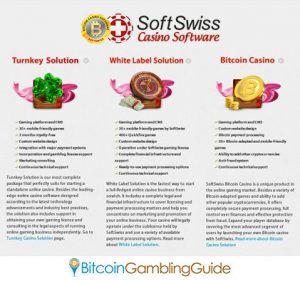 SoftSwiss
Credit to its innovative Bitcoin casino software, SoftSwiss has become the more popular turnkey casino solution for new brands in Bitcoin gambling. Boasting premium features from quality designs to flawless performance, this software provider guarantees reliable, scalable, stable, and quick operation.
Numerous Bitcoin casinos already run on SoftSwiss, such as Bitstars, BetChain, and Casino Evolution, among others, and more startups rely on its technology. This is evident as its set of original games becomes a normal sight when browsing through several platforms on the web.
SoftSwiss takes pride in its skills and expertise in producing solutions fit for the online gambling industry and perfect for gambling with Bitcoin, especially now that it is capable of transforming any Bitcoin casino to a provably fair site.
More plans are still up the sleeves of SoftSwiss as revealed by CEO Ivan Montik:
"Mobile game development is an important part of the roadmap for the rest of 2014. We are also planning more partnerships with other game content providers because the more games we have to offer, the bigger segment of players the casino can cover. Besides our own games, we already have integrated those from Quickfire, Amatic, Betsoft Gaming and Ezugi live dealer, and we don't stop here."
Recently, SoftSwiss launched a Bitcoin betting exchange.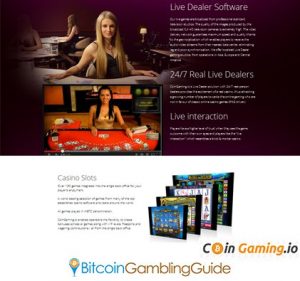 CoinGaming
CoinGaming remains to be a top pick in the Bitcoin casino market, and this can be attributed to its credentials. It is licensed by the Curacao government to conduct online gaming operations, and it is a silver member of the Bitcoin Foundation. Besides these, it also offers up-to-date solutions that are perfect for casino gaming using the digital currency.
CoinGaming features over 130 games, compiling entertaining games from different suppliers around the world, including Novomatic Slots, Betsoft Gaming, Takisto, Ezugi, and Betgames. Even the XIN Gaming games are also covered by this software provider. Much even better is the fact that this provider finally added a sportsbook platform. Thus, bettors can watch out for the new mBit Casino sportsbook.
Aside from its wide selection, the live dealer casino software—which enables live betting on poker, dice, lottery, baccarat, blackjack, and roulette—present in the Bitcoin casinos powered by CoinGaming also add to the attractiveness and quality of the gaming experience offered. Bitcasino.io, mBit Casino, and Bitwin.io are only some of the gambling sites that use this technology.
Which software provider reigns supreme?
In an ideal setting, there can only be one provider that rises above the rest. However, in the world of Bitcoin gambling, each one has its own advantages over the other. Thus, it boils down to what the casino operators and the players prioritize more.
Ultraplay receives a perfect score for its extensive collection of table games, which still prove to be among the games online players want. However, CoinGaming beats the rest when it comes to offering Bitcoin slots, which—as all bettors are aware of—tend to be the main attraction even in real-money online casinos. When it comes to provably fair gaming, though, SoftSwiss is the name to remember since its growing catalog can ensure everyone fairness in online gambling.
Indeed, the best Bitcoin casino software provider is one that fits all the criteria desired by the stakeholders. For you, however, which of SoftSwiss, CoinGaming.io, And UltraPlay would you consider the best?