Betting on Dice, poker, and other casino games with Bitcoin is a big business nowadays. Hundreds of online casinos out there are accepting the cryptocurrency and it has become a significant part of the online gambling industry. This is mainly because Bitcoin has features that make Bitcoin so attractive to online gamblers and gambling operators alike. First, it allows for quick and cheap worldwide transactions. Second, it preserves user anonymity to a great degree.
The combination of these two features has allowed for the growth of the Bitcoin gambling industry since they allowed for smaller sites to be able to operate without licenses or a large overhead. One of the first to leverage Bitcoin's advantages for gambling was SatoshiDice.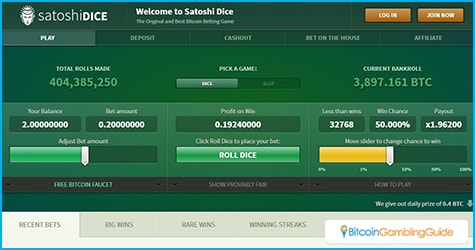 Starting with a basic dice game paired with a Bitcoin payment platform, SatoshiDice quickly became a popular site. It was even responsible, at one time, for a bulk of the transactions on the Bitcoin network. It has managed to produce a lot of imitators, though, since setting up a dice site can be pretty easy. Nowadays, it can be hard to choose which dice site to play at.
Here is a simple comparison of three top Bitcoin dice gambling sites to make the decision easier.
SatoshiDice
The original dice site, SatoshiDice has managed to keep operating after all these years. This is mostly because of name recognition and the fact that the green-and-white site is really that good. It recently faced a security scare, but the admins have managed to correct the problem. They have even added a slot game as a secondary choice if people get tired of dice.
However, SatoshiDice's big draw is still its dice game. It has two sliders: one is for how large your bet is and the second is the chance to win. The lower the chance to win, the higher the potential profit is. Players can then roll the dice to see if they win. Winnings are automatically deposited in a player's account. Additional features include a free Bitcoin faucet and a provable fairness window.
Primedice
Another popular dice site is Primedice. The blue-and-silver dice betting site provides a more technical counterpoint to the easy SatoshiDice. There are no easy sliders here; players will have to specify the bet amount and the win chance. Players can further modify the betting whether the dice roll can go over or under. Furthermore, players can automate their betting, by setting up the parameters of future rolls.
The site has a provable fairness feature to assure players they will not be cheated anymore. Additionally, there is also a faucet to give players without bitcoins.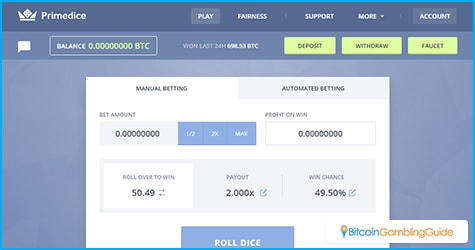 FortuneJack Dice
The dice game on FortuneJack is just one of the several games on board the casino. FortuneJack, which has increasingly become popular through its range of bonuses and promotions, is also a favorite for its dice section that provides a nice little diversion for players. It is a bit more complicated than PrimeDice or Satoshi Dice, but the basics are the same. People just need to guess the dice roll. The site, however, can be overwhelming in the way it presents the information. Experienced dice gamblers will be able to interpret it, but beginners would probably be better off with SatoshiDice.
These three are just the tip of the iceberg. There are a lot of Bitcoin gaming sites out there, each with their own quirks. Curious Bitcoin dice gamblers should explore a bit and try some of them out.