TonyBet, a popular European online gambling site, has recently made the news with its acceptance of Bitcoin. The site's owner, Tony G, has been vocal in his support of the cryptocurrency and decided to put his money where his mouth is and open up the site to Bitcoin transactions. This has been a big boon for the site as it has attracted quite a few new players to it.
The Bitcoin change was just the beginning, though. TonyBet wants to improve its position in the online gambling market further by introducing Run it Twice Poker Tournaments on TonyBet Poker and hooking up with a new partner.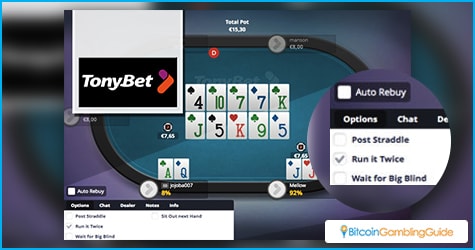 Introducing 'Run it Twice' Poker Tournaments
First, TonyBet's announcement that it will be holding Run It Twice Poker Tournaments should be an exciting prospect for a lot of poker players. This is because the concept behind it can give players a second chance to win.
Here is how "running it twice" is supposed to work. In traditional Texas Hold'em, there is a single set of community cards or the river. Players have two hole cards that they only know about and they wager that they can make the best hand out of the river and their hold cards.
Occasionally, when only two players are left on the table and one of them goes all in and the odds are close, the two players can decide to "run it twice." This means dealing another river. The players then show off their hole cards. The player can win with the initial cards getting half the pot, while the other half goes to the player who can win with the second river.
"Running it twice" is an interesting way to play and can often soften the blow for many poker players on the table. However, it only happens rarely and never in tournaments. With TonyBet's proposed tournament format, running it twice would be the default way to play when an all-in situation happens.
This will ensure to attract quite a few interested players for its uniqueness. In addition, the format will be released during a Run it Twice freeroll festival, which will have a guaranteed €15,000 prize pool. The large prize will also help to attract players.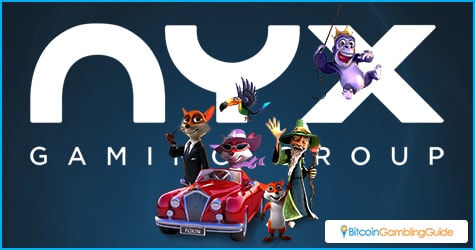 New partner on board
Another new development for TonyBet is a partnership with NYX Gaming. The deal will allow for the launch of its Open Gaming System (OGS) with Tonybet in the areas that its covers: Lithuania, Estonia, Denmark and the UK. This will be NYX's first foray into the regulated Lithuanian market, which is a definite feather in its cap.
For TonyBet, this means the addition of some popular games to its library. This includes titles like Gorilla Go Wild, Jackpot Jester 50,000, and more. With new games and expanded coverage with Bitcoin payments via SpectroCoin, TonyBet looks to have a great future ahead of it.