Now that the Summer season is upon us, sports enthusiasts have plenty to look forward to. Albeit Wimbledon and Euro 2016 came to an end, there is still the Tour De France. Albeit not everyone is keeping close tabs on the cycling world, there are plenty of sports betting opportunities for Bitcoin enthusiasts to explore.
Tour de France 2016 so far
When the first week of the Tour de France 2016 came and went, the number of surprises was kept to a minimum. Granted, we had our Belgian pride Greg Van Avermaet picked up the yellow jersey for a few days, which was pretty nice. But what really stood out was how no one had given up on the three-week stage just yet. In most cases, several cyclists retire after the first few days.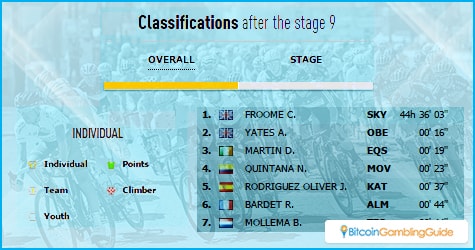 The cycling world was taken by surprise, though, when Alberto Contador of all people decided to call it quits. He was suffering from a fever attack after falling down a few days prior. Preliminary reports indicated that he never fully recovered from those injuries, and an infection started to spread throughout his body. A very unfortunate turn of events, but that does not make the 2016 Tour de France any less exciting.
Speaking of excitement, Tom Dumoulin won! This Dutch cyclist managed to win a stage in the Vuelta, the Giro, and Tour De France in a one-year timespan. Quite an achievement to say the least and he did deserve the victory after playing his proverbial cards just right.
It has to be said, the current standings are quite interesting to take a look at. As of writing, Chris Froome is in the lead, which is not entirely surprising. However, his lead is rather small, as the entire top 10 is only one minute and one second apart from one another. With nearly two more weeks to go, anything could happen before we get to Paris.
Sports betting with Bitcoin
All of this cycling excitement presents Bitcoin sports betting opportunities across many different sites. Although this may not be the type of sport most people would place a wager on, Bitcoin may want to explore the opportunities. After all, why not try and earn a little bit of extra money for little to no effort?
Unfortunately, not all of the major Bitcoin sports betting websites have odds for the Tour de France 2016. Nitrogen Sports, for example, offers a wide variety of sports to bet on. However, cycling is not one of them, and it is not listed under the "specials" section either. Quite a shame, but perhaps they will add it in the future. The same can be said for Cloudbet, as they don't list cycling either.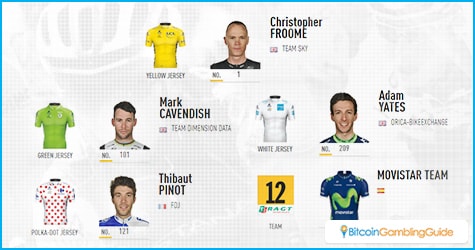 SportsBet.io, on the other hand, is one of the platforms which do include the Tour de France 2016. In fact, they have a wide variety of Bitcoin betting options. Players can wager on who will win the individual stages, as well as who will be the end winner of each classification. Moreover, the winner of the Tour de France 2016 can be wagered on as well, and Chris Froome offers the best odds at 1.55. Adam Yates, who is only 16 seconds behind him in the standings, comes in at odds of 43-to-one.
Last but not least, we have DirectBet, which is one of the biggest Bitcoin sports betting platforms. Their selection of Tour de France 2016 betting is very similar to that of SportsBet. Betting on classification for teams, points, young rider, and points are all possible. As far as the winner goes, Froome comes in at 1.54, whereas Adam Yates face 55-to-one odds. Moreover, it is also possible to bet on the upcoming stage, albeit only two participants are listed right now: Froome vs Quintana.