Bitcoin keeps its morale on a high note after its consistent affiliation with the conventional business sectors. For years, Bitcoin has struggled to gain the favor of the mainstream market while proving its revolutionary capabilities to the people.
Fortunately, its efforts have paid off now that several mainstream businesses are consistent with the adoption of Bitcoin into their platforms. One of the prominent business sectors that have adopted Bitcoin to upgrade their line of services is the travel industry.
Since 2013, major traveling companies have integrated Bitcoin to become one of their payment methods. Notwithstanding the uncertainty this sudden addition may bring, Bitcoin travelling agencies were satisfied with the positive results it brings to their businesses.
Bitcoin integration brings travel agencies on cloud nine
CheapAir, one of the early Bitcoin adopters in the travel industry, continues to experience the wondrous effects of integrating Bitcoin and altcoins since it first welcomed the possibility of accepting cryptocurrencies.
The travelling agency's CEO Jeff Klee said in an online interview that ever since his company added Bitcoin as a payment option, the agency has garnered encouraging remarks from customers and has even acquired over $1.5 million worth of Bitcoin sales.
Since then, CheapAir has expanded its Bitcoin payment services to cover hotel and railway bookings.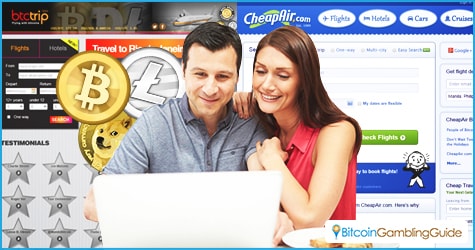 Litecoin and Dogecoin catch up with Bitcoin's mainstream acceptance
Given that Bitcoin payments for travel are now out in the open, alternative cryptocurrencies like Litecoin and Dogecoin are closely catching up with the former's status in the mainstream market.
This is further backed by the fact that CheapAir is also openly accepting Litecoin and Dogecoin payments for the same travel benefits as to Bitcoin travelers.
CheapAir's CEO shared last year that apart from supporting the integration of Bitcoin, his company's customer base also encouraged him to add both altcoins for the same business advantages:
"We've had some success with bitcoin, we've gotten some new customers there – enthusiastic customers. We've gotten a great response since we began accepting [bitcoin], and we had some requests for dogecoin and litecoin. We figured why not?"
The CEO then added that they will be limiting altcoin payments to flight bookings only. He emphasized that the agency will soon expand the scope of altcoin payments once the integration have brought favorable results to the company.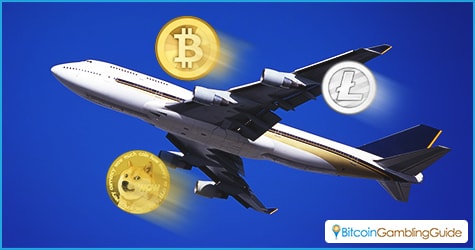 A bright future can be guaranteed for the whole cryptocurrency industry
The accessibility of Bitcoin and other cryptocurrency payments in the mainstream market is positively rampant as compared to its nurturing years.
Vanilla business departments, like the travel industry, are developing more methods to provide users with the simplest and most effective conduits for utilizing Bitcoin.
One example of this expansion is the continual launch of several Bitcoin ATMs. Months ago, world-renowned boxer Mike Tyson has launched his own ATM at the heart of Las Vegas.
With Tyson's Bitcoin ATM and the likes in full swing, Las Vegas casino goers are now able to use Bitcoin for their gambling pleasure. Therefore, this only comes to show that Bitcoin gambling is not anymore caged on the Internet and is now able to showcase its prowess on land-based casinos—a great triumph for the Bitcoin ecosystem's most prominent player, despite the indirect role of Bitcoin in brick-and-mortar casinos.
Bitcoin is not anymore for the exclusive use of technology-adept users. It is now gradually becoming a normal entity that normal people are able to use with ease.
Meanwhile, focusing the lens on the significance of Bitcoin in the travel industry, this simply hints the myriad ways the digital currency can improve operations that seemed to be normal to begin with. In short, Bitcoin revolutionizes the way everything—industries, people, businesses—transact, and the obvious growth of the Bitcoin travel industry is a true testament for this.