Another match in the North American League Championship Series semifinals sees Team SoloMid crush CounterLogic Gaming for the right to enter the finals. This achievement is doubled because the points that TSM has earned makes it the first North American team to qualify for Worlds, League of Legends' biggest event. That is in the future, though. What is important now is that TSM will be going up against Cloud9 for the NA LCS top spot and $50,000.
Slow and steady
The match itself was a slaughter for CLG. In a best-of-five match, TSM never let up on CLG resulting in CLG losing all three of the first matches. The first game showed a hint of what TSM's plan was. After the initial reset because of a bug, TSM managed to slowly grind CLG with Bjergsen's Cassiopeia dominating the field.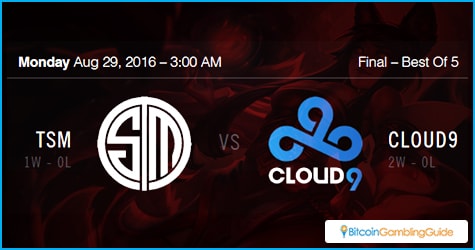 Game two seemed to be going CLG's way when Stixxay managed to get a kill with his favorite Caitlyn. The problem was that TSM managed to recover and repeated the same strategy as before: going for a resource advantage and leveraging it to create multiple kill fights.
After Doublelift managed a triple kill in a single clash, TSM broke through and finished the game. The final game started slower, but it let TSM build up a 2,000 gold lead by 13 minutes just from farming. This was quickly followed by four kills for TSM. Continued assaults led to TSM's dominance and ended the game in 43 minutes.
The upcoming finals
Now that two teams have been selected, NA LCS is moving into the finals. Both teams are pretty good. TSM has consistently made it to the top of the rankings in its long history. They have also become one of the biggest teams in North America with a solid fan base behind them. Although the team has recently had to adapt to a new roster, TSM has still managed to perform well. Hauntzer, Svenskeren, Doublelift, and Bjergsen and Biofrost are ready to take on Cloud9, having clawed themselves up from a bad position earlier in the season.
Cloud9 are not someone to disregard, either. They have been stalwarts in North American scene since their debut in the 3rd season of NA LCS. They ended that year with an impressive 25-3 record. Since then the team has shown up at a variety of premier regional and international championships.
Right now, though, it seems the team is still trying to recover from its latest reshuffle. Reaching the finals is an impressive achievement, but a lot of analysts are a bit doubtful of Cloud9's position for the finals.
It will still be an interesting match nonetheless. With $50,000 at stake, it may not be a high stakes match, but wining the NA LCS should bolster both teams' reputations.