Mike Tyson is one of the most prominent individuals in the world for decades. He started to astonish the world at the mere age of 18 by unleashing god-like feats in the world of boxing. Tyson has won the interests of almost every audience because of his ferocity and skills in the ring.
In spite of being known in the field of sports, Tyson still continues to impress the world with several eccentric antics that are too farfetched from his world of expertise. In fact, Tyson has engaged himself in the world of entertainment. Making appearances in several shows for the past years, the undisputed boxing champ still continues to wow spectators on a different note.
Needless to say, it is now no surprise if Tyson will continue to grasp new grounds and interest, given his fickle diversity. However, the boxing champ still managed to surprise the world again after a monumental announcement about joining the Bitcoin wave through his very own Bitcoin ATM.
Mike Tyson and Bitcoin
On July 25, Tyson made a curiosity-pumping post on his personal twitter account stating:
"Coming soon… https://Miketysonbitcoin.com … Changing the way we get change."
Tyson attached his website's link on his tweet. The link directs users to the website's homepage where 'teaser' details were posted. However, visitors are just locked into accessing the homepage since the website is still under construction during that time.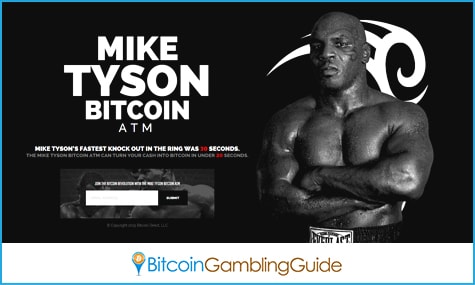 Regardless of this celebration-worthy broadcast, both Tyson's followers and Bitcoin enthusiasts were shocked about this revelation. Though a few applaud their idol's venture into the cryptocurrency stage, the majority is rather skeptic about the possible outcome of Tyson's ATM.
The reason behind the doubts of several Bitcoin spectators and Tyson fans is the fact that the website's domain owner—Peter Klamka, CEO of Bitcoin Direct LLC—is currently in a bad light due to several unanswered questions regarding anomalies with his company's business transactions.
In addition, many speculate that Tyson was lured into joining the Bitcoin business landscape because of Klamka's smooth talk and promise of great returns.
Iron Mike's Bitcoin ATM—Now Ready to Rumble
In spite of numerous allegations and qualms given by spectators, Tyson's Bitcoin ATM goes live and is now installed and located within the LINQ Hotel & Casino's promenade, which is off the strip of Las Vegas Boulevard.
Users can now have a glimpse of this Iron Mike-inspired ATM, where the machine is covered in black and displays accents of white. It also has Tyson's iconic face tattoo to give more emphasis to the ATM's ferocity in Bitcoin deliverance.
Other than its unique appearance, one vital factor that makes this BTC ATM standout among its kind is the fact that it promises users to have their cash converted into Bitcoin under 20 seconds. This flagship feature is based on Tyson's fastest knock out clocked at 30 seconds.
Considering the growing number of land-based casinos that are now accepting Bitcoin, Vegas on-goers who prefer BTC for their bets are now able to experience fiat-to-BTC exchanges instantly and with ease.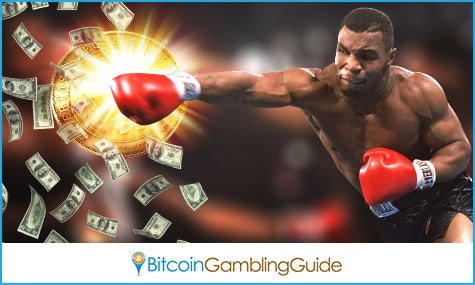 ATM That Pushes Bitcoin Gambling on Land-Based Casinos
A number of casinos in Las Vegas are now steadily keeping its pace toward the grand acceptance of Bitcoin as one of their modes of payment, and this is further amplified by the unveiling of Tyson's Bitcoin ATM.
As such, Bitcoin gamblers need not to falter if they wish to step up their game on land-based casinos since they are now offered with a conduit that bridges the gap between land-based casino games and cryptocurrency bets.
As of writing, The D and the Golden Gate Casino are among the few of renowned land-based casinos in Las Vegas that are fully open to Bitcoin gamblers. Now that Bitcoin bettors are given assurance of the usage of their cryptocoins for their bets, it is safe to say that the cryptocurrency gambling industry spearhead by the Bitcoin casino names will soon be able penetrate the brick-and-mortar gambling  market with the help of Tyson's Bitcoin ATM.