Bitcoin users have multiple betting options at their disposal at all times. One of the more popular trends is to wager on the outcome of real-life events. The 2016 US presidential campaign was quite beneficial to Bitcoin betting, as the amounts of wagers placed surprised everyone. All of this goes to show prediction market models and gambling on real-life events certainly have their place in the Bitcoin ecosystem.
Trump And Clinton boost Bitcoin gambling
Many different things have been set about the 2016 US Presidential elections so far. A lot of people are outraged over the result, yet they will have to make the best of this situation over the coming four years. Despite both candidates being the least popular in quite a long time, they did have an impact on how Bitcoin bettors interact with real life events.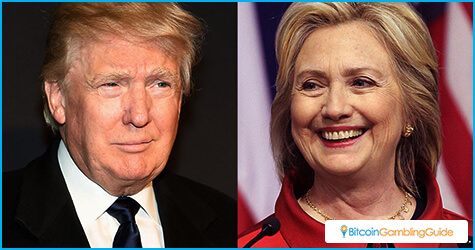 As it turns out, there are quite a few gambling sites where Bitcoin users placed bets on the 2016 elections. All of these platforms saw an uptake in the number of placed wagers, indicating the Bitcoin community had a vested interest in who would become the next US president. Fairlay, one of the platforms offering these wager opportunities, recorded nearly US$1 million in bets. Other Bitcoin gambling sites like BetMoose and sportsbooks like Directbet also covered the recent election.
As is the case with any Bitcoin gambling opportunity, there is a big chance of winning a lot of money. Those who bet on Trump—despite the odds being stacked against him somewhat—were quite happy with the outcome. It is rather interesting to note how there were a lot more bets placed compared to the 2012 US presidential results, though.
Multiple reasons may have caused this increased Bitcoin bettor interest. Over the past four years, things have been heading in the right direction for Bitcoin. Countries are now officially recognizing cryptocurrency as a valid payment method, and the expected harsh regulation has had a minimal impact on Bitcoin as a whole. At the same time, the financial turmoil plaguing the globe in recent years has shone a new spotlight on cryptocurrency as a safe haven asset class to hedge against volatility.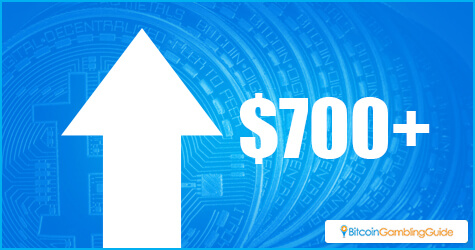 As more consumers become aware of what they can do with Bitcoin, the gambling industry thrives as a result. No one wants to answer any questions related to online gambling expenses, and Bitcoin ensures there is no paper trail of these transactions. Moreover, having the opportunity to bet on real-life events brings even more mainstream appeal to the cryptocurrency industry.
One big question remains, though: what will President Trump do about Bitcoin moving forward? Since cryptocurrency cannot be controlled or regulated through traditional means, it seems likely a crackdown on Bitcoin will occur in the coming years. At the same time, the recent hire of Peter Thiel as part of Trump's transition committee could turn out to be beneficial for cryptocurrency. Placing a wager on how Donald Trump will tackle Bitcoin seems well warranted at this time.