The Fair Tax Act of 2017 will impose a new US casino tax to operators that offer gambling activities. The bill will impose a 23-percent tax on businesses that offer 'game of chance'. What remains uncertain is if this bill will affect online casinos too, including Bitcoin gambling sites that operate or cater to the US market.
Fair Tax Act of 2017
Republican Sen. Jerry Moran introduced the Fair Tax Act of 2017 bill earlier this month. Based on the 132-page bill, operators who offer 'games of chance' will pay a 23-percent tax. The bill defines games of chance as those where players places a bet or wager and that players and the sponsor or operator do not have any means of manipulating the outcome of the game. In other words, there are no skills involved with a game of chance.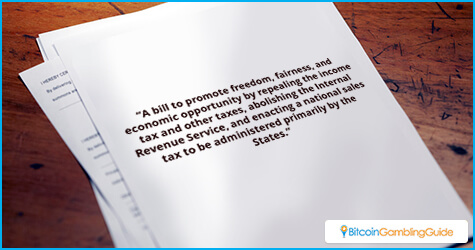 There are no indications or wording of the bill that separates brick-and-mortar casinos and online gambling sites. It is possible that the sponsors indicate both types of operators. US-based offline and online gambling entities might be covered and may include Bitcoin casinos. Bitcoin is not a subject to taxation in the US. However, the money converted from Bitcoin is the one that is a subject to taxation.
As of this time of writing, the 2017 bill is in its preliminary stages. There are no scheduled hearings or votes for the bill yet.
Poker and fantasy sports may be exempted
The targets of the bill are games that do not involve any form of skills. In this case, online poker rooms like Americas Cardroom and daily fantasy sports sites like DraftKings can be off the hook. Unlike casino games, online poker is a game of skill. Moreover, sports betting is just the same. Meanwhile, fantasy sports are still debated as whether a chance game or not.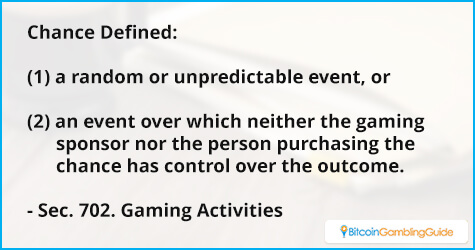 US Atty. Loretta Lynch said in 2013 that sports betting requires skills to win a bet. The skill involves doing research on both sports team and competitors. Doing so gives a player an edge over a bookmaker whose odds may be far from the likely results of a match. Bettors can also influence the movement of a betting line by making a small bet on one side. This allows them to get better odds on the other side of the betting line.
Fantasy sports are also considered as a game of skill. The Unlawful Internet Gambling Enforcement Act states that players do not bet on the score or the team who wins the game. Players who draft a superior team have the edge in winning their bets. With the merging of DraftKings and FanDuel set this year, US players can expect a larger market for fantasy sports.
For the meantime, New Jersey Rep. Frank Pallone said they will conduct a full review of the federal sports gambling law in the country. Pallone is looking to create a new legislation that comes from the full review. This legislation can place a fair environment for every type of offline or online gambling establishment. This also includes bookmaking and fantasy sports sites.