More than anything else, poker is a mental game. It is not for the faint of heart.
At the time of modern technology, robots take the place of players who either lack the expertise and skills or fear the risks of gambling and losing. They are called the poker bots. Widely available for the past years, these bots are readily provided by key names in the industry.
Poker Automatics is among those, and it has been guaranteeing worldwide players sizeable daily wins since 2011. Making itself more relevant on the market, it accepts Bitcoin and have designated its bots in well-known online poker rooms that support the digital currency.
With passive income guaranteed around the clock, this service becomes of great value to anyone who is new to online poker or prefers to limit the risks of losing funds due to inexperience.
'A system that will change your life'
Poker Automatics does not exaggerate when it says that its poker bots make players see earning through online poker in a different light.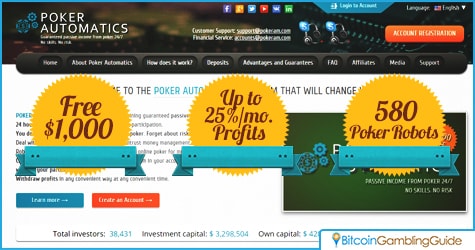 It promises up to 25-percent profit every month with ensured wins every day, and it allows its users to withdraw at least $0.1 or 0.001 BTC on a daily basis. A minimum deposit of $30 or 0.10 BTC registers an average monthly profit of 12 percent while deposits higher than $50,000 or 166.67 BTC reflect the highest share of profit at 80 percent or more.
This much profit transferred to client accounts daily without the members exerting effort to strategize and catch the highest winning hand makes the Poker Automatics system the perfect companion for online poker players.
Free $1,000 upon registration
According to Poker Automatics, its network of 1022 poker bots has been providing users with daily profits for four years already.
If this is not enough proof, speculators can explore this opportunity since all newly registered clients are awarded free $1,000, which can be used to test the service and experience the entire process first hand.
Players, however, must understand that this is a no deposit bonus and is solely used to test the system as if they have actually deposited the said amount, as was stated in its terms or service. Thus, it cannot be withdrawn, as well as the profits generated from it.
Nevertheless, this free amount properly demonstrates how players from across the globe can find earnings on a regular basis through the website's innovative poker bots.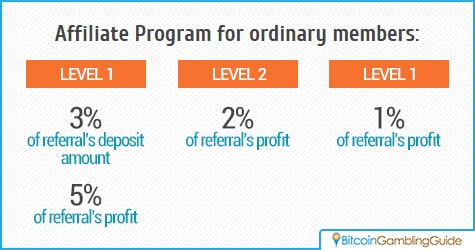 Three-level affiliate program plus other features
Further creating a user-friendly system is the addition of its affiliate program that reflects profits from referrals up to the third level.
A five-percent commission is yielded from partners on the first level while two percent are from those on the second level. The third-level partners, on another note, transfer one percent of their earnings to the user two levels above them.
This program is tailored for the ordinary clients of Poker Automatics, but representatives—an individual or group that functions as a consultant in their city or country—receive larger referral profits per level: 10 percent, three percent, and two percent.
Other than the affiliate program, this online poker service provider offers several benefits, including intuitive customer support, Skype chat, reserve fund, video reviews, and transparency in fees, as well as free bonuses and a weekly lottery.
Meanwhile, Bitcoin poker player may take advantage of this since the poker bots also operate in the rooms of Winning Poker Network (WPN), which now supports Bitcoin. Betcoin.ag and Americas Cardroom are some of the websites that accept the digital currency and are powered by WPN.