vDice.io opened its doors only in June this year, but it has already emerged as one of the most promising apps in the Ethereum network and will be holding a vDice crowdsale starting next month.
Operating as a copy of the original SatoshiDice, vDice is having the same effect as the original. People who would like to play on the site purchase Ether tokens. This has resulted in an increased demand and the value for the token has risen. In the few months of its operation, the Ethereum dice site has already processed thousands of bets. It has not exactly matched SatoshiDice's success, but it is getting there.
One of the marks of this success is that vDice was a sponsor of the second Ethereum developer conference in Shanghai. Held last month, the conference highlighted the recent growth of the network and how the community has developed some great apps for the system. The sponsorship also showcased the profitability of the site and its popularity.
vSlice tokens
After the recent sponsorship, vDice continues to grow. It has announced plans for a crowdsale of vSlice tokens. These tokens act as a way for people to invest into vDice and share in the profit. Starting from Nov. 15 until Dec. 15, people can buy these tokens at a 1 to 100 ratio. This means that players get back 100 vSlice tokens for every Ether sent to the crowdsale.
Using the Ethereum network, the crowdsale contract is fully decentralized. This means that once the crowdsale opens, people who pay for vSlice will receive them immediately from the network. Created using the ERC20 standard, the token is guaranteed to be safe and follows in the footsteps of other tokens created on the Ethereum network.
The biggest difference is that vSlice will be the first profit-earning token produced by the network. This means that when a person holds a vSlice token, they automatically get proceeds from vDice's profits. vDice is putting a lot of effort in this crowdsale, with the developers working hard to release a GUI wallet, especially for the sale.
vDice.io's future
The crowdsale's main reason is to get funds for vDice's future development. The site has done well since it opened, but adding more features will only make vDice.io and Ethereum gambling more attractive to players.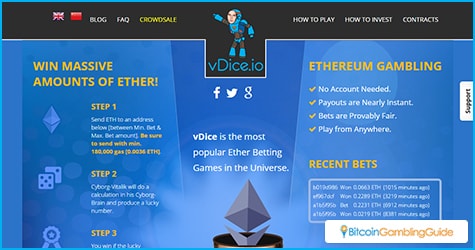 vDice has released how it will allocate the funds earned from the sale. A 23-percent allocation is for legal and compliance purposes. Another 23 percent is to be spent on expenses, salaries, and rewards. A large 39 percent will be allocated towards the development of new games and projects, while the remaining 19 percent is to pay for the expenses and rewards of the crowdsale.
With the right funding, people can expect great achievements from the vDice team. This can also be a win-win situation for those willing to invest, since with Ethereum's star on the rise, Ether, can only rise in value.