From the simple dice game enjoyed by the Egyptians, gambling has now formed its own booming industry, thriving and flourishing over time. It continues to move forward and produce more sophisticated and well-equipped services for the benefit of future gamblers.
One of the monumental developments is the establishment of online casinos and gambling platforms. However, in spite of being an artifact of history, the gambling industry is consistently being hampered by the protocols of the modern age.
Online gambling and its extended battle for freedom
Although land-based casinos and gambling venues are enjoying a harmonious relationship with authorities, their online counterparts seem to entice conflict.
Daily fantasy sports, one of the latest genres in iGaming, is currently on a skirmish with US authorities.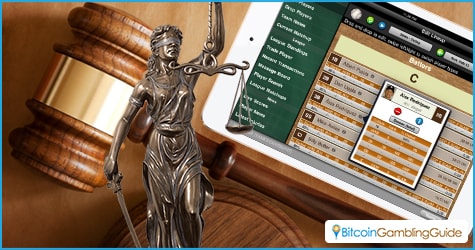 DraftKings and FanDuel, two of the famous platforms that offer daily fantasy sports wagers to US bettors, are now being put to question due to the loopholes in regard to their operations.
According to US authorities, both fantasy sports platforms do not have the complete requirements to enable their services to legally operate in the region.
As both platforms continue their battle against their impending termination, sports betting enthusiasts flocked social media and forum sites to discuss about the absolute method to avoid such detrimental setbacks in the future.
Amid the various suggestions being thrown out by the discussion, the majority has voiced out the integration of Bitcoin to these gambling platforms, thereby giving to daily fantasy sports with Bitcoin.
Bitcoin to enliven fantasy sports betting
Other than improving the traditional financial setup, Bitcoin is more known to upgrade the processes in online gambling.
Through its advanced structure that safeguards transaction transparency while keeping users' identity intact, a great number of gamblers prefer this cryptocurrency over traditional money for their wagers
In fact, real-money gambling platforms are now starting to either add Bitcoin to their payment methods or completely conduct a platform overhaul to be a legitimate Bitcoin casino.
These scenarios, however, are only rampant to online casinos and sportsbook platforms, and are still being considered by other gambling categories.
Nevertheless, these Bitcoin sportsbook advantages are also applicable to save fantasy sports from its current dilemma.
Once Bitcoin fantasy sports gains ground, wagers and cashouts no longer need to pass through third-party conduits, which are the apparent main reasons behind the troubled sector's current legal battle. Sports bettors can watch out for more fantasy sports offered by sportsbook solutions providers like UltraPlay.
Moreover, Bitcoin sports betting sites that offer fantasy sports betting may garner a more extensive customer base since Bitcoin is a currency that is acknowledged and accepted in most parts of the globe.
The possibility for the platforms of the operators to consider Bitcoin for daily fantasy sports will give them a chance at market growth and the immunity from legal restrictions not strictly implemented in Bitcoin gambling.