Internet forums are a great place for people to come and meet those with the same interests. For those who are interested in cryptocurrencies, Bitcointalk is the premier forum on the latest Bitcoin news and trends. The forum has various sections in which specific about Bitcoin are discussed.
One of the more popular areas is the one involving Bitcoin gambling. A lot of new sites announce themselves by starting a thread in that particular part of the forum. From single-game sites to big online casinos, most of them have a presence on the Bitcointalk forum. Bitcoin gamblers should follow their example and sign up for an account or at least regularly drop by Bitcointalk.
Two-way communication
The main advantage of being on Bitcointalk is that it is the perfect venue for communication. The relationship between a company and one of its consumers can be difficult. This is mostly because of the lack of communication between the two parties. That is why having a Bitcointalk presence is important for Bitcoin gaming site operators.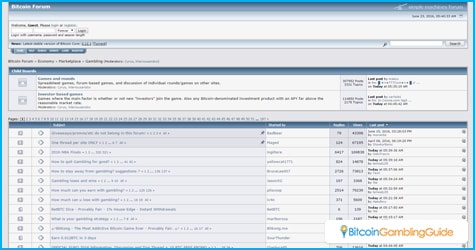 For one, new brands can introduce themselves and build a clientele by setting up a Bitcointalk thread. Though it can be done via an official press release, these do not often go directly to the customers. They often have to be posted to news sites first or on the site's official page.
With a post on Bitcointalk, gaming sites can release their announcements directly to their players. In addition, beyond introducing a site, a Bitcointalk thread can promote more like simple bonuses to new games that they offer. A Bitcoin gambler who frequents Bitcointalk will be able to see all these with ease.
It is not just all for the site operators. A Bitcointalk thread is also an excellent medium by which players can have a dialogue with gaming site operators. Customer support tools are often a built-in feature on gaming sites, but if there are none available or it is about a site policy, posting a complaint can help get the site operator's attention.
Additionally, if the site is experiencing technical problems or has a noticeable problem, then a report on the thread can help report it. This is also where players can easily express their dislike of the brand or even shares the possible Bitcoin gambling scams.
Knowledge shared
It is not just about communication alone. Bitcointalk brings together numerous people to discuss a lot about the brands being mentioned on the site. One of the best methods an online gambler can use when looking for a good place to play is to listen to word-of-mouth. For example, if players are recommending a gaming site, that usually means they found it an enjoyable experience.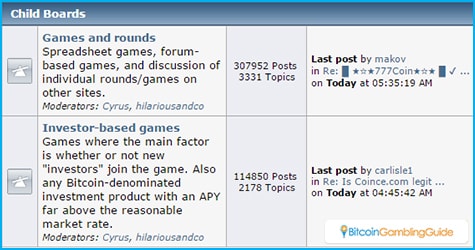 In addition, these forums are a great place for affiliate marketers to earn extra income. Affiliate marketing involves giving recommendations and referring people to a site. With the amount of online gamblers dropping by Bitcointalk, it is an excellent place to advertise.
Overall, Bitcointalk provides an ideal place for two-way communication between site operators and online gamblers. With the information found on it, online gamblers can be sure to improve their gambling experience.