The past few days registered the highest Bitcoin price since it abruptly plunged into the $200 price range months ago. But as quickly as it skyrocketed past $450 was its sharp decline that brought the highly volatile price of the cryptocurrency back to trading at about $300 apiece.
Those who are not convinced of Bitcoin's volatile nature would acknowledge this recent series of price movements as reason enough to believe. Average users would be troubled, but long-time bitcoiners would have perceived it as just another day.
While experiencing panic or concern is normal, this, however, is not the case for online players who use Bitcoin for recreational or serious gambling. There are, after all, good points despite the rise and fall of the Bitcoin price.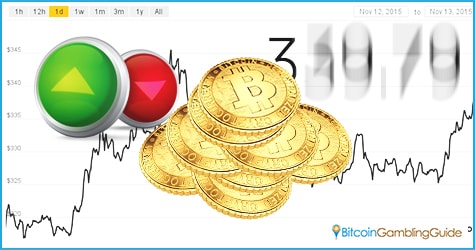 Price hike and surges are like wins and losses
Other than day traders and online brokers, land-based and online gamblers would be the perfect candidates to understand the similarities of price fluctuations with winning and losing bets.
The market value changes of the digital currency are dependent on external factors but they resemble the luck involved behind the fate of every wager in online gambling, let alone Bitcoin gambling.
Significant Bitcoin price increases do not happen too often, and this is the same for gambling. When such price hike occurs, though—as what happened recently—it delivers the familiar emotions involved in winning the jackpot or even a few mBTC.
Avid players in a Bitcoin poker or casino would not be completely blown away by the fluctuating value of the cryptocurrency. In a sense, gambling online has prepared them—emotionally at least—for the best and worst case scenarios.
It is a win-win situation
Coming from the Bitcoin gambling perspective, a high or low Bitcoin price still spells benefits to a player. What matters more is the timing and manner bettors will bring the value to their advantage.
Bitcoin bettors are guaranteed to cash in larger amounts when they withdraw their winnings and convert them to fiat currencies at the time when the price is trading relatively higher than the average. Likewise, a humble Bitcoin price marks the perfect opportunity for players to buy more of the digital currency to boost their bankroll.
Fluctuating values do not affect the excitement and entertainment
Granted that the Bitcoin price is on a constant rollercoaster ride, the euphoric feeling of placing bets, winning coins, and beating the opponents do not change just as dramatically. Bitcoin gambling maintains the excitement and entertainment in wagering digital currencies, and it continues to make it dynamic through the variety of Bitcoin slots from game providers like NetEnt, Endorphina, Betsoft, and Amatic present on different betting websites.
Online gambling vis-à-vis Bitcoin price volatility is the perfect example where aiming to win more bitcoins is more important than other factors of any size.