The US election is of interest to everyone in the world. With the potential leader of the free world being decided, a lot of people are paying attention. However, some of them are actually interested in who will be the next president for a more practical reason than knowing the next president. Their interest is more about the bet they made and whether they won it.
Placing a wager on the outcome of an election is technically illegal. However, if the bettor is not participating in the election, either as a voter or a candidate, they can place a wager with no worries. This is why the bets are already coming in support of either Hillary Clinton or Donald Trump. Futures markets and sportsbooks already did this during the primaries, but this time the stakes are higher.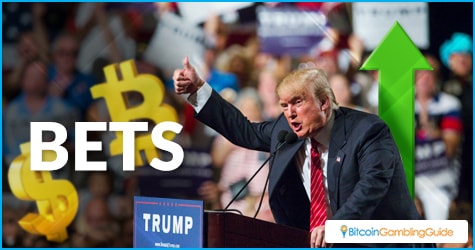 Trump mania
There are already several online sportsbooks taking bets like BetOnline.ag and DirectBet.eu. BetOnline has odds that significantly mark Clinton as the favorite, with Trump at low odds of success. Offline bookmakers William Hill, Ladbrokes, and Paddy Power also have offered wagers on the US election with similar odds. However, something strange is going on.
Féilim Mac An Iomaire, a spokesman for Paddy Power, recently made an observation about the bets on Trump. It seemed that even with the odds against him, people are still betting on the Republican candidate. This is a curious phenomenon because a lot of people usually place wagers on the favorite, willing to accept the low payout just to be sure of the win.
This fanatic devotion to Trump can be attributed to the media frenzy that has begun about this year's November elections that have polarized the voter base. This has led to a devoted following that is willing to place bets on Donald Trump.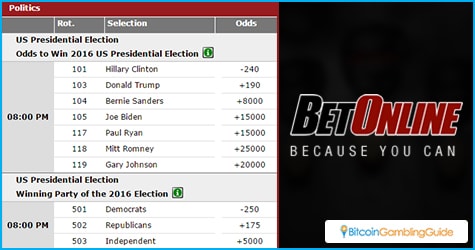 Bad news for sportsbooks
The sportsbooks and other betting firms accepting wagers are benefiting a lot from receiving the bets on Trump. However, the problem with having all bets on Trump is that he may still win. Sportsbooks are focused on the odds and not the situation on the ground.
The Republican and Trump machinery are taking steps so that they can become a formidable force in preparation for the election. In addition, Hillary is not exactly easy to like either and this can put a damper on her plans for the White House.
A Trump win would also be a disastrous for sportsbooks. This is because all the bets being paid out would be quite expensive. With the odds against Trump, it may result in a situation like Leicester's, where the sportsbook has to pay out enormous amounts to the winners.
Fortunately, some sportsbooks have seen reason and cut a bit down the odds they placed on a Trump victory. It is only in November when we find out if this is a smart move or not.