Several Bitcoin news sites claim to offer the latest news, updates, and trends that both significantly and indirectly affect the Bitcoin markets. The Bitcoin gambling industry is one of the sectors that generate a lot of buzz in online media, where, unfortunately, words like 'breaking' and 'latest' tend to be overused.
But just how true are these news platforms to their promise of delivering relevant news to the gambling scene?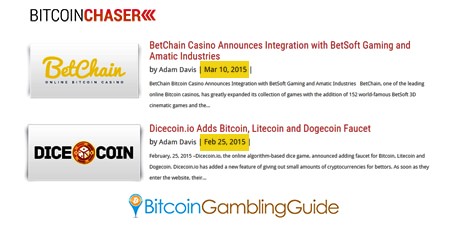 Some websites dress up as a source of the 'latest breaking news and updates from the Bitcoin world.' They claim to usher Bitcoin-related news in general, but it appears that their clandestine efforts cater to online gamblers with the majority of their limited news stories dealing with the Bitcoin casino market.
Moreover, the News page is not updated on a daily basis, even more so regularly, which raises the question of how exactly online players can benefit from it.

Other news sites seem to have also transformed 'latest' to a hackneyed word as they not only fail to bring new insights daily, but they also resort to feeding stories recently published by other online sources.
While there is nothing wrong with hosting other websites' Bitcoin gambling news, doing so, however, is redundant and a hindrance to players who wish to gain more knowledge of the pressing issues. In cases like this, it is always appropriate to include intelligent points of view of the writers to aid the readers in further understanding the effects developments will have on the market.
Not to discredit the efforts of the websites guilty of the said shortcomings, though, even the larger Bitcoin news portals like CoinDesk and CryptoCoinsNews, which focus on the Bitcoin markets on a macro perspective, fail to satisfy the needs of the bettors.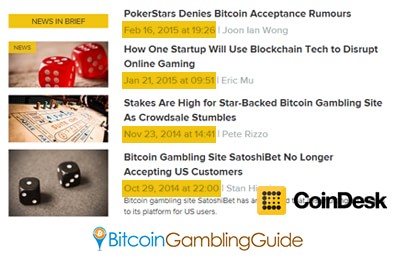 CryptoCoinsNews currently have two news articles related to Bitcoin casino while CoinDesk, although more active in covering the gambling scene, does not provide the said industry with enough mileage for the players to know more about the freshest developments, trends, and stories concerning the Bitcoin gambling industry.
Thus, this calls for a website that exclusively caters to this niche.
With a dedicated team of professional writers, Bitcoin Gambling Guide functions as the primary venue for the online players to read the most relevant, insightful, and newest stories.
It even publishes exclusive interviews with Bitcoin gambling operators, entrepreneurs, and key influencers for the benefit of all the Bitcoin gambling enthusiasts worldwide.
Bitcoin Gambling Guide is committed to foster an informative environment for Bitcoin players, regardless if they prefer Bitcoin poker, sports betting, casino, or others.