This year's Wimbledon has been an interesting tournament to watch and bet on, especially the men's and women's division. In the men's division, there were the surprise twists like Novak Djokovic being eliminated as well as the Cinderella story of Marcus Willis.
The women's division had the fall of Garbine Muguruza and Serene Williams proving the doubters wrong by devastating the competition. The tournament has managed to move on to the next phase though and the betting action is sure to heat up as the men enter the semifinals and the women enter the finals with Serena Williams and Angelique Kerber.
Men's semifinals
The men's semifinals will be happening this Friday. One match will be Milos Raonic and Roger Federer, while Andy Murray faces off against Tomas Berdych. These two matchups will be great to watch.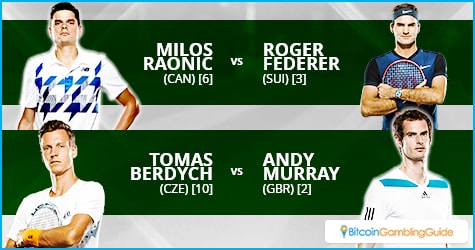 For the Raonic and Federer match, it will be interesting to see how the two will match up. Raonic and Federer have clashed before in other tournaments and they are familiar with each other's form. Raonic is aiming for his first Grand Slam, something that Federer managed to deprive him of the chance.
Federer has managed to come out on top of their many matches, but Raonic managed to get one over the older Federer in the Brisbane Open this year. It is not all in Federer's favor, though. He is getting old and at 34 is one of the oldest players in the tournament. The odds reflect this even situation as Raonic is being touted as the favorite in sportsbooks like BetBaller and Nitrogen Sports while the reverse is true in other sportsbook like SportsBet.io and Anonibet.
The Murray-Berdych clash is a bit less conflicting. Murray has never lost to Berdych before, but the two have never fought on grass before. Sportsbooks have Murray as the favorite, though Berdych's odds are still very good. A lot is riding on this match. If Murray wins and goes on to win the finals, he gets his 11th Grand Slam and the record of the most appearances by a British player in a Grand Slam final. For Berdych, he gets to be the first Czech tennis player to appear in multiple Grand Slam finals since his coach Ivan Lendl.
Women's finals
For the women's finals on Saturday, it will be Serena Williams up against Angelique Kerber. If Williams wins this one, she matches Steffi Graff's 22 Grand Slam wins. This means that she would be one more win away from breaking it and making history.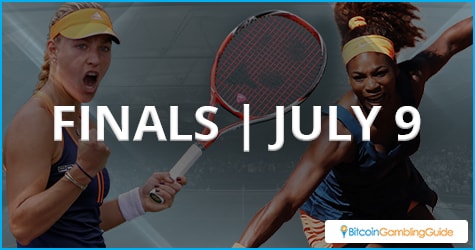 After her easy win over Elena Vesnina, this is looking to be very likely. However, Angelique Kerber is not going to make it that simple. The German player has been on a steady rise since her debut in 2003. A strong left-hand player, this is only her first Wimbledon final and a chance at a second Grand Slam title. The sportsbooks are unanimous in their support of Williams. A lot of them are putting the odds of a win at around 1.5, with others going even lower.
With the Wimbledon finals coming up, the betting action will only get hotter. Interested bettors should place their wagers now to get a piece of the pie.