The Powerball lotto jackpot nearly reached a quarter of a billion in the Saturday draw. The lucky Powerball lotto numbers for the previous draw are 52-17-16-13-06. The Powerball number is 25 and the power play is three.
The Powerball lotto is available in 44 US states, the Virgin Islands, District of Columbia, as well as Puerto Rico. A ticket is only $2 and a person can buy one through a number of gambling sites. They can even use Bitcoin to buy Powerball tickets.
Powerball lotto prize
No one won the $229 million jackpot last Saturday. The next draw will be on Wednesday, Feb. 8, and the jackpot this time is $255 million dollars or more than a quarter of a billion.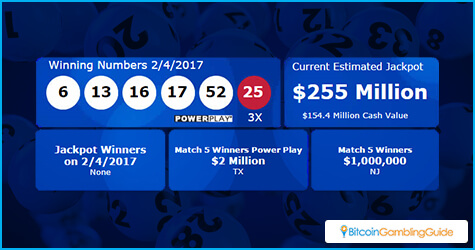 The Powerball Lotto is popular due to its massive prize pools. The default prize of each Powerball is $40 million. This makes it one of the biggest default jackpots in the world.
Last year, a Pennsylvania couple took home the jackpot prize of $121.6 million on Dec. 17. The biggest prize from last year was $1.58 billion. Three winners from California, Florida, and Tennessee split the prize among each other.
Buying and playing the lotto using Bitcoin
Anyone outside of the US can still play the Powerball Lotto. Anyone who thinks he can guess all five white numbers and one red number can play the Powerball Lotto in these websites. In fact, players can join lottery draws using bitcoins.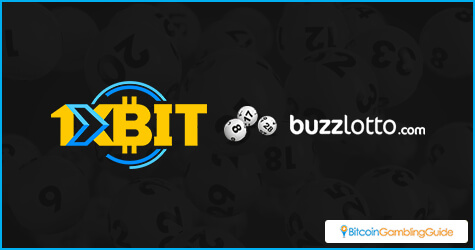 1xBit
Sign up for an account at 1xBit. Click on 'Extra' at the top and click on '1xLotto'
Find and click on the 'play' button within the Powerball Lotto window
Select five numbers out of the 69 white balls
Select one Powerball number out of the 26 red balls
Let the site randomly pick the numbers for them
Click 'buy' to finalize the ticket. To add more ticket he can click on 'add ticket'
Use his 1xBit bankroll to buy the ticket
BuzzLotto
Click 'buy tickets' on the Powerball ticket at the main screen. If the Powerball ticket is not showing, click on 'play lottery' at the top left and select the Powerball ticket from this screen.
Select the five white ball numbers and one red ball numbers on one ticket. To add an additional ticket, a player can simply select another set of numbers in a blank ticket.
Click 'quick pick' at the top of a ticket to randomly select the numbers.
Click 'continue' at the bottom once he has a ticket with six select numbers in it.
Use credit cards, Skrill, Bitcoin, and other payment options to buy the ticket.
With the Powerball lottery now available to Bitcoin players through 1xBit and BuzzLotto, more players have the chance to win the huge jackpot currently up for grabs. The next draw will be this Wednesday. Players can still buy Powerball tickets and find their luck in Bitcoin lottery.