WinTrillions is known to support numerous currencies and payment systems. Today, however, it has branched out toward the popular cryptocurrency known to many as Bitcoin.
Bitcoin, now an increasingly recognized payment with a popular status in online gambling, is used to wager on Bitcoin casino games. With the digital currency on board, WinTrillions is the latest major online lottery site to accept the digital currency for deposits and withdrawals from players worldwide.
Since 2005, WinTrillions has been supplying the world with its lottery services. Its agents purchase offline lottery tickets in behalf of the users, allowing participation from the comfort of their home. This combines the convenience of online purchases along with the reputation and assurance created by widely known traditional lottery brands.
The site is represented by Lotto Elite, an affiliate program offering official lotteries marketing services. Lotto Elite provides all of the tools required for effective advertisement.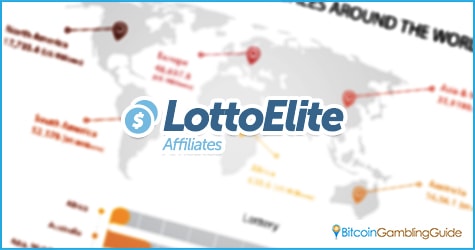 Strengthening payment options
WinTrillions now extends its reach toward the increasingly common virtual currency and accepts it as payment in the numerous lottery games, such as lottery, lottery syndicates, and millionaire raffles from all over the world.
According to Lucy Vanderbilt, lottery advisor at WinTrillions and its Spanish-language sister site, Trillonario:
"We have been keeping a careful watch on Bitcoin for some time and consulting with our customers on whether it should be added to our website, which boasts more than 100 payment processing options. It's now becoming increasingly mainstream and it seems that the time was right to become part of the global Bitcoin community."
Initially, Bitcoin payments are expected to account for only a portion of the thousands of international lottery orders placed on WinTrillions each day, but the payment system is anticipated to grow together with the rapid adoption of cryptocurrency. Its introduction serves to aid the versatility of payment options provided by WinTrillions. Moreover, everyone gets the same promotional offers and VIP Loyalty Points regardless of payment method used.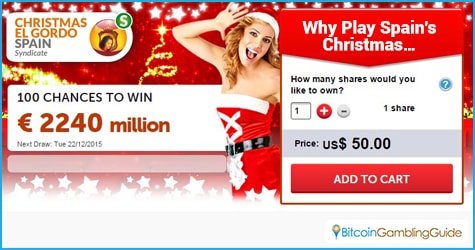 Christmas El Gordo 2015
The addition of Bitcoin to WinTrillions is in time with the launch of the ticket sales for Spain's Christmas El Gordo 2015, the €2.24 billion millionaire raffle draw that creates a storm in the online lottery sector—now on the Bitcoin lottery scene as well. This year, WinTrillions secured its VIP ticket allocation earlier than ever before. It is expected to sell out within weeks as customers bid to become one of the guaranteed 320 millionaires.
Vanderbilt added:
"Christmas El Gordo is always the lotto event of the year and we expect a high percentage of Bitcoin transactions to be made on this lottery. Each ticket has a 1-in7 chance of winning at least €1,000, so it's no surprise that the draw is so popular."
With the arrival of Bitcoin on WinTrillions, more individuals can benefit from the lucrative winnings lottery issues, especially with the upcoming events filled with immense amount of prizes to be won.