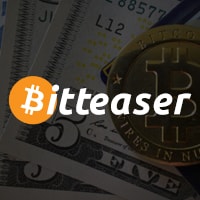 Companies that have already integrated the Bitcoin technology and systems into their network have already experienced the well-off spike in their establishments' overall performance and reputation.
However, in order to fully experience this inviting achievement, Bitcoin firms must secure a massive and legitimate audience base, which can be conveniently garnered with the assistance of effective advertising agencies.
The Bitcoin business industry today houses various domains that have dedicated their services to the betterment of Bitcoin publicity. One of these is Bitteaser.
What is Bitteaser?
Bitteaser is an advertising network that specializes in marketing Bitcoin businesses and startups through their steadfast line of promotional services.
Notwithstanding the fierce competition among Bitcoin-dedicated marketing agencies, Bitteaser offers a notable range of advertising amenities, which greatly complement the needs of its clients.
Compared to other advertising networks, Bitteaser offers its patrons with simple and cost-efficient ways of promoting their cryptocurrency-powered brands, businesses, projects, and even ideas.
Bitteaser currently offers marketing services that follow the CPC (cost per click) and CPM (cost-per-thousand-impressions) models, which are the most effective methods in the online marketing business. The company then plans to integrate the CPA (cost per action) model in order to provide clients with a more efficient catalog of publicity tools in the future.
Exclusive services offered by Bitteaser
Other than its precise functionalities, Bitteaser stands out among its competitors because of the fact that it has organized its services to enable easy access for specific clients such as cryptocurrency advertisers and webmasters.
Bitteaser gives their clients who are registered under the 'advertisers' category full authority over their advertising campaigns. Thus, advertisers are able to test-run their promotions, adjust their preferred price per click, and select their preferred targets, regions, and languages.
The Bitcoin advertising network also creates customized banners and takes hold of the advertising campaigns for its clients' convenience. Of course, this service is within the discretion of the subscriber.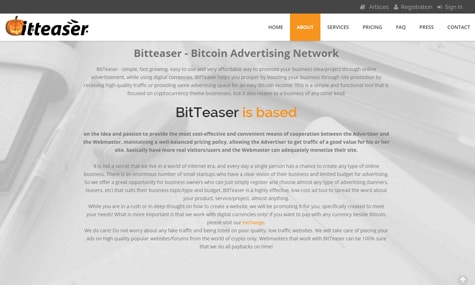 On the other hand, clients who already own a site can still gain Bitcoin profits through Bitteaser.
Under the 'webmasters' category, clients who are willing to advertise and promote other Bitcoin startups can earn by providing them with ad spaces that are available on their domains.
Webmasters can then profit from these ad spaces depending on the click rate of the advertisements that are posted on their websites. After all, the webmasters' role is to aid the advertisers' brands to reach a wide population of audiences.
Other than these specific clients, Bitteaser allows users who are either advertisers or webmasters to earn lucrative Bitcoin profits through the agency's 'partner' program.
Similar to the Bitcoin affiliate program, clients who have registered to the 'partner' program can earn Bitcoin by inviting either advertisers or webmasters to subscribe to Bitteaser's offers. Income rates of partner members depend on the click rate of the ads that are hosted and posted by their invites.
Bitteaser's contribution to the Bitcoin industry
Bitteaser's marketing offers are certainly a needle in a haystack. Given that there are several marketing agencies in the Bitcoin industry, this platform remains to provide exclusive and steadfast publicity tools that are proven effective.
Having these facts at hand, Bitcoin or any cryptocurrency startups or established companies are certain to gain marketing success with marketing services such as Bitteaser's.
With numerous successful Bitcoin-powered companies that are thriving within the industry, the Bitcoin industry is expected to remain firm as one of the most efficient income-generating domains to exist on the Internet.