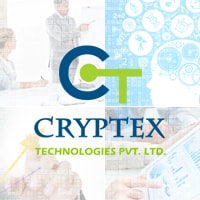 Not all effective online service providers are based in the West. This is the case of Cryptex Technologies.
Founded in 2007, it classifies itself as a new generation software development company. It prides itself on providing tried and tested web-based software solutions and caters to various clients from different sectors. This thriving business continues to deliver reliable services and boasts a dynamic team of professionals dedicated to perfect every task at hand straight from their headquarters in India.
If this company is to be described in a single phrase, though, then its tagline definitely fits its brand. After all, it functions indeed as a 'one stop shop for RoR development.'
Services and Skills
Cryptex Technologies specializes on the development of Ruby on Rails (RoR). Rails is an open-source web framework designed to make coding and programming easier and faster. In short, it is optimized for efficiency and productivity—aspects that this company value in each of their solutions.
It offers consultation services on RoR for interested clients across the globe—services that can be truly trusted since only the latest tools and techniques in the industry are utilized to match distinct areas. Thus, if you have a company and are seeking professional guidance from the bottom up, this company is something that can be depended on.
Other than its spot-on RoR consultation services we like, this industry player also showcases its expertise in developing Android and iOS applications. Having developed over 150 applications for different clients coming from all parts of the world—US, UK, Canada, and Australia, to name a few—the Cryptex team absolutely knows how provide on-point services.
Moreover, it covers other services, including database development and Canvas learning management system implementations.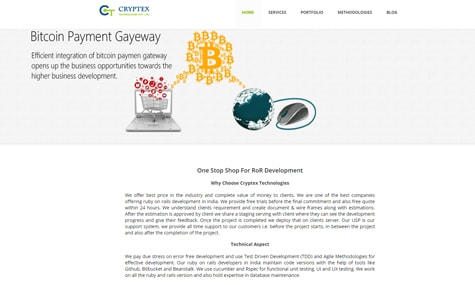 Portfolio and Projects
The recent projects Cryptex Technologies have developed comprise the Family Court Direct System app, the DashGo web app, and the Delivery Tracker app. In addition, it has also designed a payment gateway API for the merchants who wish to integrate Bitcoin payments into their system.
With a successful project that involve Bitcoin, it becomes clear how effective and truly capable this company is in delivering solutions that meet the demands from their clients.
More importantly, developing Bitcoin payment gateway solutions can easily make Cryptex one of the valued names in the Bitcoin ecosystem, especially today when Bitcoin adoption gains more ground not just in the US but also in different countries.
Expertise and Dedication
A long list of expertise and specializations only makes this company a trustworthy player on the ever-evolving and competitive markets. Coupled with its commitment to provide premium solutions, Cryptex Technologies has a complete arsenal guaranteed to help new and old businesses maximize their potential in becoming big names in various industries.