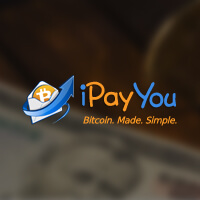 iPayYou is a flexible Bitcoin wallet that has a number of different uses. This includes buying gift cards from different online shops and the ability to pay someone through their email account. These features have made this wallet one of the services we like.
There are many different online and physical stores that are accepting Bitcoin payments. Popular stores, on the other hand, have yet to open their doors to Bitcoin. This is where iPayYou comes in with its Bitcoin Direct feature. Bitcoin Direct lets you convert your Bitcoin into usable credits for Amazon or Starbucks. The process is as simple as sending Bitcoin from one address to another.
Gift Card purchases
iPayYou lets you buy gift cards for major retail stores with your Bitcoin. It offers cards for Best Buy, iTunes, Amazon, Starbucks, and Netflix. These cards are a great gift solution you can buy with Bitcoin. You can also sell back the gift cards if you want to return any digital cards.
These gift cards also make it possible for you to buy items from stores that do not accept Bitcoin. This includes the iTunes store and Netflix.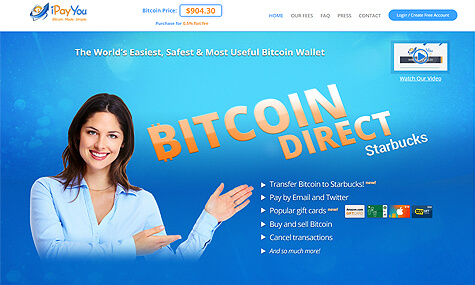 Email or Twitter payment
If you need to pay other people online with Bitcoin and they do not have the time or are able to create a Bitcoin address, iPayYou has you covered. It lets you send Bitcoin to someone via their email address or Twitter account. This makes it convenient for you to pay anyone who does not have a Bitcoin address.
All Bitcoin transactions are irreversible. There is a possibility that someone might send a significant amount of Bitcoin to the wrong person. With this Bitcoin wallet, you can cancel any payments that you might have sent to the wrong address or account.
User-friendly interface
iPayYou makes it easy for everyone to take control of their Bitcoin. Its layout is simple and easy to understand. You can easily access any of their services through your account page. There are no complicated terms or any walls of text that can confuse any new Bitcoin owners on the site. It makes the Bitcoin experience a straightforward and simple one.
Buy and sell Bitcoin
iPayYou gives you the option to buy bitcoins through many major banks via ACH transfer. You can also sell your Bitcoin and withdraw your fiat cash to your bank account. The site even has an auto-withdraw feature that lets you turn Bitcoin to cash and to automatically withdrawn to a bank account. You can turn this on or off at any time.