BitKong Overview
BitKong is as old-school as it gets when it comes to crypto gaming. One of the earliest crypto games on the web, BitKong has survived due to its simplicity. It delivers a solid interface and an enjoyable gaming experience perfect for all gamblers.
Online gambling does not need to be complicated. It can be as simple as a flip of a coin. Such is the case of BitKong. Learn more about how this simple game can generate tremendous rewards.
Launched in 2015, BitKong offers a simpler setup than what you'll see from most online gambling sites. Initially set up as a Bitcoin-only game, BitKong now allows play in five different cryptocurrencies, including Dogecoin. While this Bitcoin gambling site only offers a single game, it is both fun and can be wildly profitable.
Not ready to deposit? No problem! This game features both a demo mode and a faucet mode where you can make faucet claims and use them to build your bankroll.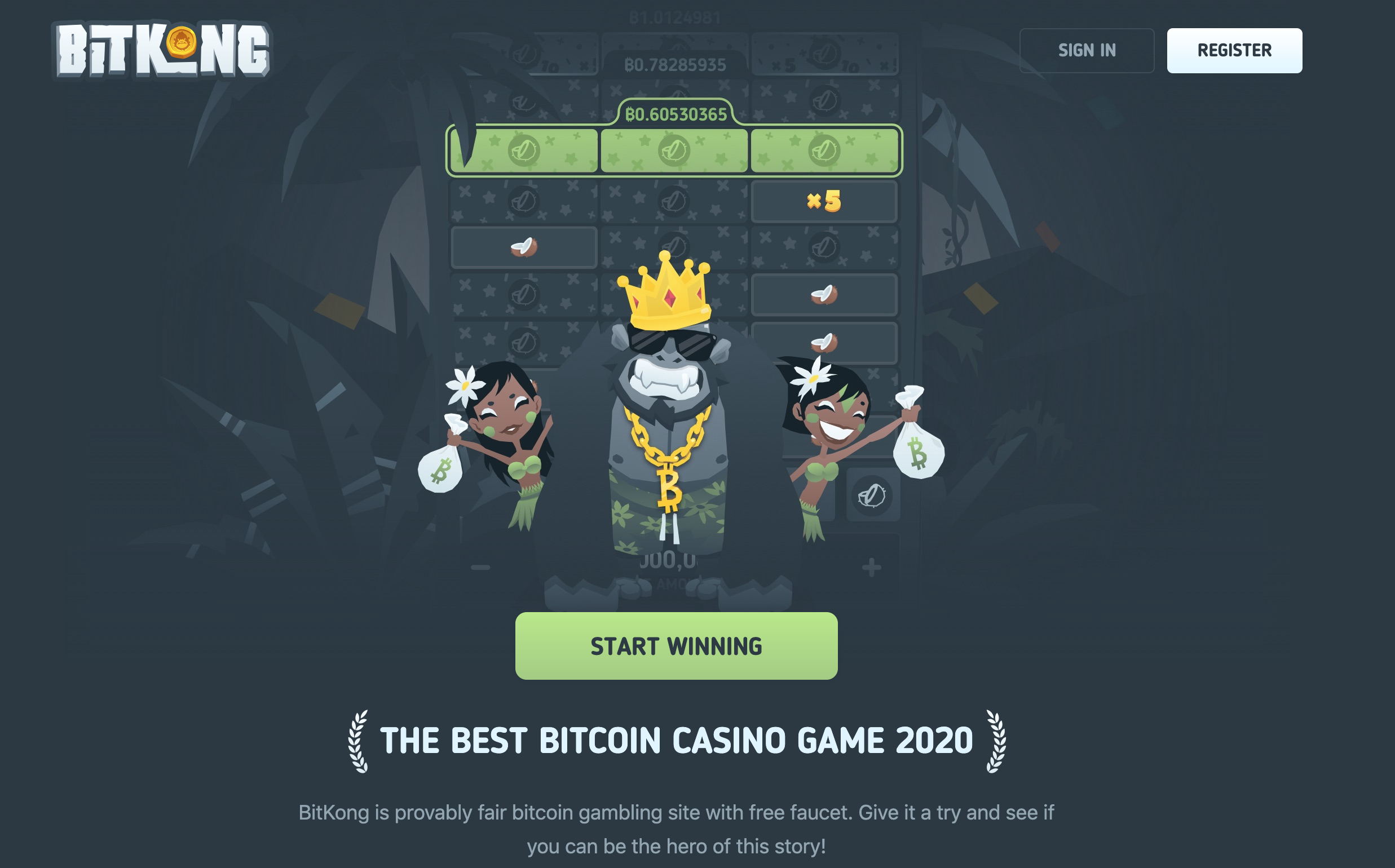 BitKong Pros & Cons
Pros
Great site interface
Bitcoin faucet
Instant withdrawals
Demo play
Cons
Single game only
Faucet claims have high cashout level
High fees for faster withdrawals
Customer support not 24-7
BitKong Games
BitKong presently offers a single game. It is similar to minesweeper, where the object is to avoid stepping on poop. Each section has four blocks to choose from. Choose correctly, and you move up a level. Each time you move up a level, the amount of your earnings increase. Once you reach the second level, you can opt to continue playing or collect your earnings.
If you collect your earnings, the game is over immediately. Also, if you continue playing and land on poop, you lose all of your accumulated earnings, and the game is over. Choose correctly up tot he top row to get the top prize.
Prizes are based on the level of difficulty. There are five levels to choose from, ranging from Easy to Nightmare. The top award for Easy is around 10x your initial bet, but you have to choose correctly nine times. Nightmare mode only has seven levels, but there is only one correct choice every level. The top prize is 11,441 times your initial bet.
Software Features & Graphics
BitKong is a well-designed site with a simple interface that's easy to understand. The main game takes up most of the screen, but options for your account, bonuses, and recent activity are available on the side of the page. Graphics and sound effects are pretty generic, which is fine considering the simplicity of the game.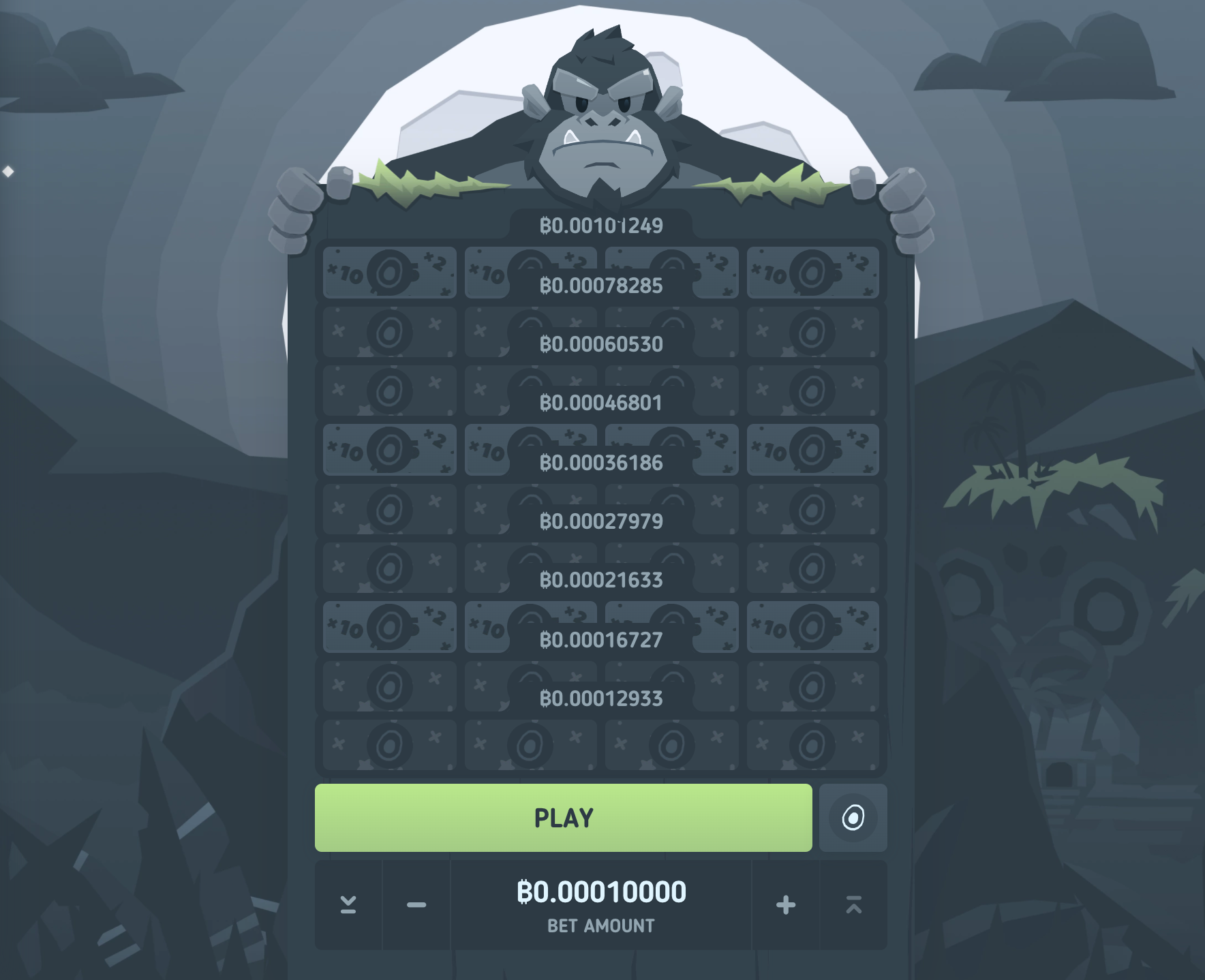 The website is mobile-optimized, meaning that it is playable from any mobile web browser. Android users also have the option of downloading the BitKong app. However, if you have Google Chrome or Safari on your mobile device, an app is not necessary.
Account
Registering for an account with BitKong is easy. Just enter your email address, and you'll be emailed a sign-in code to use. Once you enter the code, you can select your username and begin playing on the site. You also have the option to login using Facebook, Twitter, Telegram, or Line.
You also have the option to setup Two Factor Authentication for your account. Also, you can set up security keys using Yubikey, Trezor, or any FIDO2 compatible device. You can fully customize your account by signing into the website and going to the Settings area under the Account tab.
Depositing & Withdrawals at BitKong
BitKong accepts several forms of cryptocurrency for deposits. You can deposit using the following currencies:

The deposit process is simple. Just select the crypto you wish to use, and it will tell you the minimum that you must deposit. For example, the minimum deposit for Bitcoin is .001 BTC. Note that if you send less than the minimum, BitKong will charge a commission which is deducted from your deposit.
Your funds are available after the required number of confirmations has been reached. For Bitcoin, only a single confirmation is necessary. Other currencies, such as Dogecoin, may require up to six confirmations.
Once you're ready to cash out, you can head to the cashier section and process your withdrawal. You can withdraw using all of the cryptocurrencies listed above. You can opt for a regular withdrawal, which can take an hour, or you can choose a high-speed withdrawal, which can take five minutes.
Note that there is a withdrawal fee. The fee ranges from 2% to 10% of your withdrawal. However, the high-speed withdrawal is expensive and will cost you 50% of your withdrawal. Your best bet is to wait the hour.
Bonuses & Promotions
BitKong offers several ongoing promotions. The first is their free faucet. During the week, you can claim two star credits every 10 minutes. Star credits are worth 201 satoshis. You can use these credits to play the game, or you can accumulate faucet credits. Faucet credits can be cashed out once you get 2,500 star credits or approximately .005 BTC.
BitKong also offers cashback on your play, depending on your player level. Reach Hero level and get .05% cashback. This increases steadily up to King level with a .3% cashback rate. As you play, you can also earn random Magic Chests, which can award star credits. These credits range from 100 credits to 1 million.
Unfortunately, BitKong does not offer a deposit bonus. However, you can test drive their games for free using either Demo mode or by using faucet credits.
Support
You have multiple options for assistance with BitKong. First, they offer a FAQ section that answers many basic questions asked by players. Just head to the support link to access the FAQ. Next, you can contact support via live chat on the website. Just look for the chat bubble in the lower right corner.
Note that live chat is not 24-7, so if you don't receive an answer right away, you can also email support at support@bitkiong.com. Please note that BitKong agents can only help with problems that arise with the website. They cannot assist with issues involving your crypto wallet or crypto exchange.