BitKong Overview
There's no time to monkey around when it comes to playing BitKong. A simple on-game site, it delivers a good interface and a great game experience.
Online gambling does not need to be complicated. It can be all a matter of just saying heads or tails, with a bet on the side. Such is the case of BitKong.me, which may seem simple but a winning one nonetheless.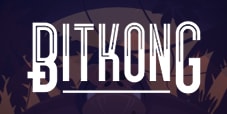 Launched in 2015, the site provides a refreshing feel far from the typical online gambling sites setup today. Since it is primarily a Bitcoin gambling site, there is no need for any license. Additionally, the code behind the site was developed by the owners, so everything is self-contained.  The site is available in English and Russian languages and can be accessed from any country.
BitKong Pros & Cons
Pros
Great site interface
Bitcoin faucet
Instant withdrawals
Demo play
Cons
Single game only
Mainly a bits game
Slow initial loading time
E-mail support only
BitKong Games
There is only one game on the site and it is absolutely simple, much like a minesweeper.  Your job is to correctly choose the 'banana' and not step on the 'poop'.  On each step is the amount that you can win. This is based on the amount you bet.
For instance, if you have an initial bet of 10 bits, then the progression will be from 19 for the first step to a maximum of 9260 at the final step. After every step you can choose to claim your winnings. If you persist and you step on a poop, you lose all of your bits. There are three levels of difficulty: easy, medium, and hard. This affects how many bits you can possibly earn and how many choices you have for each step.
Moreover, one of the attractions of BitKong is that it is provably fair. At the bottom of the betting window, there is a verify ticket fairness button. This will display the hash and seed of each ticket, showing that each game is truly randomized.
Software Features & Graphics
The BitKong is a very well-designed site. A clean and simple interface, along with excellent graphic design creates a satisfying package for any user hoping to drop by. There is the main window for betting, while two windows to the side can show the latest bets and a hall of fame for the big winners. Also, the entire site is built using proprietary software.
Account
One of the attractive things about BitKong is that it is a zero-registration site. A guest account, which has only the name to change, is given to you the moment you visit. You can start playing once you have made a deposit. If you really want to, you can link your Facebook account to the game by signing in with it, but it is not necessary.
BitKong Imagery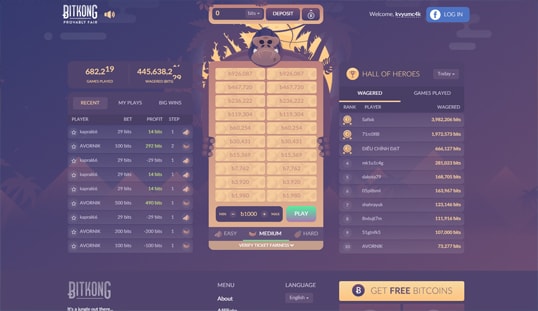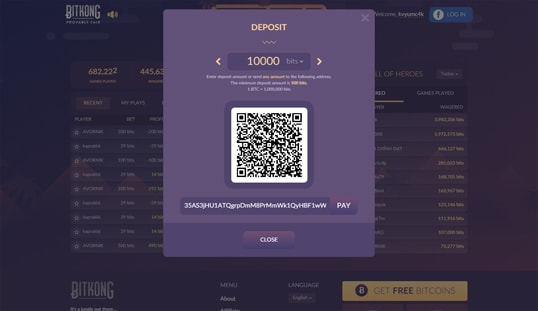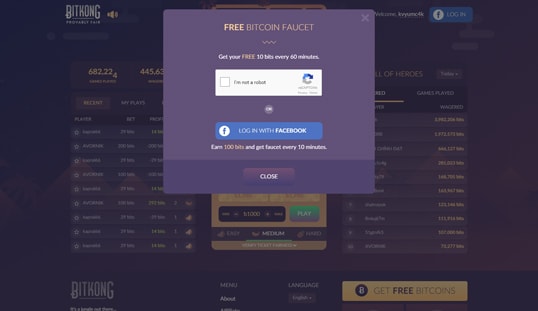 Depositing & Withdrawals at BitKong
The site is pure Bitcoin and all transactions are quick and easy because of this. If you want to deposit, you get to send bits to the BitKong wallet, while withdrawals only require your wallet address. Deposits have a minimum of 500 bits and withdrawals have a 1000-bit limit. There is a 200-bit transaction fee and withdrawals push through as they get two confirmations. Large withdrawals, however, may require manual approval but this is rare. Note that 1,000,000 bits is the equivalent of 1 BTC, so large transactions can be rare.
Bonuses & Promotions
Other than the Bitcoin faucet that gives out 10 bits for every 60 minutes, players can benefit from the Facebook bonus. This bonus is activated when the Facebook account is used to log in to the site. Doing so grants you 100 bits.
Support
The game and site are easy enough to use but if you do have problems, an email should be enough to solve your worries. Click on the Support link to send an email and the owners will get back to you as soon as possible.