Freeroll Poker vs. Play Money Poker
Most poker players confuse a freeroll poker tournament with a play money poker tournament. They are very different games. In play money poker tournaments, you can play for free, but the prizes awarded are in play chips only. Even if you win the tournament, you will never win a penny or satoshi in actual currency.
For freeroll tournaments, you have the opportunity to win real money prizes. The prizes are not huge, but if you make the money, you can use that money to play on the poker site. While the entry is free, you are still playing real money poker.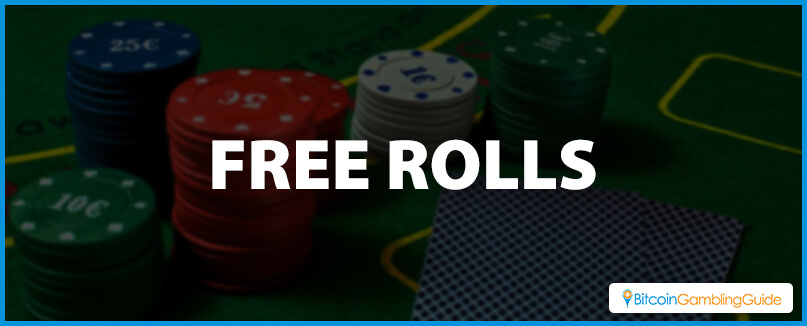 Freeroll Structures and Rewards
There are various forms of freerolls that you will find at Bitcoin poker rooms. These games will reward free Bitcoins to top players. For some sites, freeroll tournaments are only available through promotions. For example, Americas Cardroom may offer new player freerolls with added prize money. Entries are awarded as part of the sites Welcome Bonus.
Other freerolls may be run at random by Bitcoin poker sites. Sometimes, the freerolls are part of a special tournament series. Newer poker rooms will offer freeroll poker tournaments as a way to drive traffic to the website. Other sites, such as Blockchain Poker, will offer hourly freerolls to keep players engaged.
Poker bitcoin freeroll tournaments come in two general formats. The first is freezeout tournaments where players are given a single entry to try and win the tournament. These events have a static set of payouts. Next, there is re-entry or rebuy freerolls. These tournaments allow you to enter for free, but if you're knocked out during the re-entry stage, you can buy back in with Bitcoin or cryptocurrency. Re-entry freerolls start with a static number of payouts, which increases as players re-enter.
Regarding payouts, Bitcoin freerolls generally pay a smaller percentage of players than regular online poker tournaments. Sites offering freeroll tournaments pay typically around 5% of the total field to as little as 1% of the field. For example, if the tournament draws 1,000 players, only 50 players may get paid. In extreme cases, only 10 may receive a payout.
Note that an online poker site may offer freeroll poker tournament satellites that award entries into larger tournaments. Often, these freerolls may only pay one to five seats into a tournament.
Picking a Bitcoin Poker Site
Before you play your first hand in a poker Bitcoin freeroll, you need to pick a Bitcoin poker site. There are several factors that you need to consider when selecting a poker room. Here's is a quick rundown of what to look for in poker gambling sites:
Games – Does the website only offer Texas Hold'em, or do they offer other forms of poker? Sites with more variants of poker will generally draw in more players.
Tournament Guarantees – Look at the poker tournaments section and check out the guarantees. Are the guarantees generous, or are they meager? If the site has a bunch of smaller guaranteed tournaments, the tournament fields and prizes will not be very large.
Promotions – In addition to freeroll poker tournaments, the poker room offers other forms of Bitcoin bonuses. How generous is the Welcome Bonus, and are there reload bonuses available? Does the site have a rewards program? Do they offer rakeback?
Traffic – Two ways to judge traffic is the number of cash game tables running and the tournament guarantees. If there are lots of tables running with waiting lists, that's a good sign. If the site has larger tournament guarantees and is regularly meeting those guarantees, that means that there's good traffic on the website.
Customer Support – How's the support of the website? Can a poker player find answers to many fundamental questions in the help section? Does the site offer Live Chat support?
Deposits and Withdrawals – Naturally, you want a site that offers Bitcoin deposits, but does the site offer deposits for other cryptocurrencies? Also, are there any fees to deposit and cash out? The best sites allow you to deposit in Bitcoin and at least a few of the top altcoins. Also, the site should not charge a fee for deposits or withdrawals. Miner fees will be charged, but the blockchain does that, and the poker site has no control over those fees.
Are Bitcoin Freerolls Worth Your Time?
The top question asked by those looking at poker Bitcoin freeroll tournaments is whether they are worth playing. The answer depends on your goals and your willingness to deposit. If your goal is to build a poker bankroll from zero, then freerolls are going to be your best option. If you want to play Bitcoin poker with little to no risk, freerolls are for you.
However, if you don't mind making a deposit, freerolls may not be worth your time. Keep in mind that the amount of Bitcoin you will receive is minimal. In some cases, the top prize may only be worth a few cents of Bitcoin. Some sites don't even award that much.
Ultimately, Bitcoin poker freerolls are best suited for newer players or those looking to play for free. The games can offer you some valuable experience while allowing you to start building a small bankroll. There are poker players that have played poker freerolls and spun up large bankrolls from zero, but it took time and dedication. If you have the time and commitment necessary to spin it up, then Bitcoin freerolls may be the perfect fit for your poker game.