People have gambled with dice for centuries. The oldest known dice were excavated from part of a backgammon-like game at Burnt City, a South-East Iran site. They date back to around 2,800 BC! Over the centuries, dice games have evolved from board games to casino games. Nowadays, there are even dice games online. One of the most popular forms of Bitcoin gambling is the Bitcoin dice game. It offers endless opportunities, and on this page, you will learn all about Bitcoin dice games.
Bitcoin Dice Games
Dice games are as popular today as they have always been, which is why it's no surprise to see dice games in online casinos. When Bitcoin was first developed, one of the first uses was online gambling, and the Bitcoin dice game was soon born. Now that many online casinos accept cryptocurrency, the opportunities to play Bitcoin dice grew.
Several dice gambling games lend themselves perfectly to betting with Bitcoin. Most Bitcoin online casinos will have at least one dice game to play.
Bitcoin dice games are extremely safe. They often use advanced technology to ensure the ultimate in fairness. You don't need to worried about loaded dice like you would in a live game. Provably Fair sites will even allow you to verify each roll of the dice. Even better, many Bitcoin dice sites offer a Bitcoin dice faucet, allowing you to play for free.
Playing dice with Bitcoin is exceptionally secure. Bitcoin transactions are entirely anonymous. In some cases, you can even register and play anonymously. Deposits and withdrawals are made on the Blockchain, a technology that has yet to be hacked. Bitcoin deposits and withdrawals are lightning-fast and are a better option than traditional methods, which can take up to a week or more.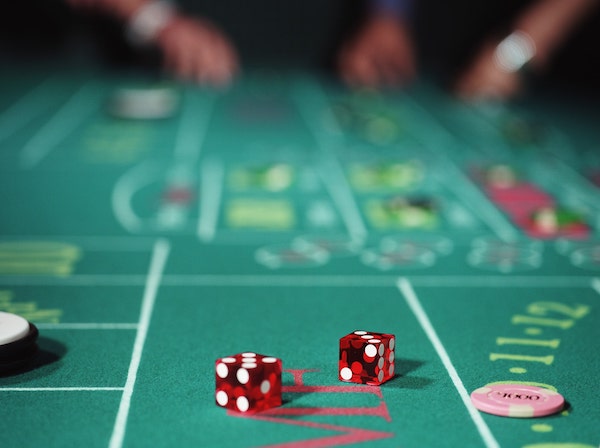 Types of Dice Games
There are dozens of different types of dice games you can gamble on with Bitcoin, but some of them are relatively obscure. You can read a brief description of the most popular dice games below that enable players to win free bitcoin.
Craps: Craps is the daddy of all dice games. Enter any casino in the world with a craps table, and that's where you'll find the most excitement. Bitcoin craps play the same way as traditional craps with outcomes based on the numbers that a player rolled. You can make dozens of different bets at the craps table with varying odds based on the scoring combinations bet. Our Craps page has more information on dice game rules for Craps.
Sic Bo: Sic Bo is a traditional Chinese dice game played by millions of people worldwide. The game is very similar to standard hi/low dice games, but it has an Asian twist. You place bets on player's scores based on the outcomes of three dice. This gives you dozens of possible bets and plenty of payouts. Our dedicated Sic Bo page is where to go if you want to know more.
Standard Hi/Lo: The simplest of bitcoin dice games is standard hi/lo. As the name suggests, you bet whether the two dice's total will be higher or lower than a specific number. It's not the most exciting of dice games, but it is super easy to pick up, and you can play many crypto games in a short space of time, making it perfect if you want a quick gamble.
When playing Bitcoin dice, you will probably hear about various betting strategies. If you plan to play using a betting strategy, make sure you take time to research and learn them properly. Systems like the Martingale strategy are popular and have proven profitable to some players. Don't fall into the trap of merely doubling your bet each time you lose. The same goes for betting a winning streak. Understand the dice strategy that players are using before trying them yourself. That will help ensure you have the best chance to win.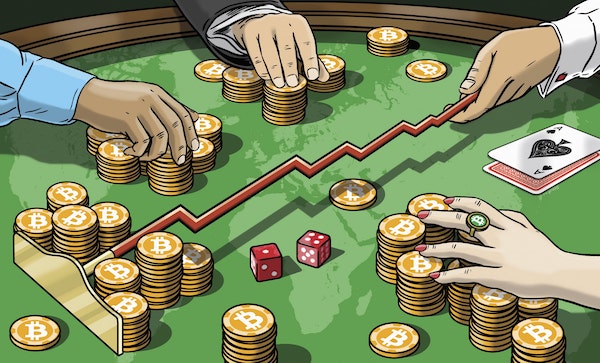 What is a Bitcoin Dice Faucet?
A Bitcoin dice faucet allows players to win small amounts of Bitcoin that can be used at a Bitcoin casino. This gives beginning players the ability to try out casino games without having to risk losing their own Bitcoin. This is the safest online gamble you can make.
Another form of Bitcoin faucet is chat Rain. Some dice sites offer live chat with other players. These players can tip others or send other players crypto using Rain. They may send 50 points worth of rain to the channel. Chat rooms are usually a full house, so it may be tough to get some rain. However, it is still free money that you can use to play dice games.
While not all casinos offer this service, it is available at many online gambling sites. It is an excellent option for those looking to gain experience or test-drive a new site. Each Bitcoin faucet dispenses varying amounts of Bitcoin, but the amount is generally minimal. Casinos providing this service are essential for beginning players. Experienced players may not find these faucets helpful, but it is a way to play a little without risk.
Why Play BTC Dice Games Online
Internet gambling isn't new, but playing with cryptocurrency is making forward strides for many reasons. Bitcoin is a safer form of currency for transactions. Taking banks and other financial institutions out of the way means faster transactions and quicker payouts. Most deposits are made instantly, and withdrawals are processed much faster than fiat payments. Bitcoin withdrawals generally take a matter of minutes as opposed to days with fiat.
Bitcoin also provides extra benefits to casino operators. Since third party payment processors are not necessary, this reduces costs for casinos. This allows them to pass the savings on to players and is done through generous promotional offers, reduced house edge, and even fee-free transactions.
Another reason why players gravitate towards Bitcoin as a gambling option is privacy. Gamblers can interact with their favorite sites with complete anonymity. Their funds and identity are kept away from prying eyes.
Lastly, the best reason to play dice with Bitcoin is the house edge. The house edge on dice games is generally around 1%, or even lower depending on the game. You can also verify each bet placed at casinos offering Provably Fair gaming, giving greater transparency.
Where to Play Dice Games with Bitcoin
There are two ways to play dice using Bitcoin. The first is playing at online casinos that are Bitcoin-friendly. This means that you deposit Bitcoin or other cryptocurrencies, and those funds are converted into the fiat currency of the website. You'll then play dice games as you normally would. Most online casinos offer Craps, Hi-Lo, or Sic Bo, so this is one of the simplest ways to play dice with Bitcoin.
The other option is to play at Bitcoin gambling sites offering authentic Bitcoin gaming. These sites offer you the ability to deposit and play with BTC. Generally, these sites offer bonus promotions for depositors or offer Bitcoin faucets to encourage players to sign up and play.
Below are the three top sites for crypto games that offer Bitcoin dice games.
BitcoinCasino.us: Featuring a top Bitcoin bonus and fast payout. Bitcoin gamblers are eligible for 5 BTC with 150 free spins.
BetCoin.ag: With a focus on conventional casino action, their offer of 20 no-deposit free spins and fair gaming is hard to resist.
Yoyocasino: This casino promotes a registration process as something that will take new players less than 60 seconds and has a variety of bonus packages for new users.
Dogecoin Dice: Often referred to as RollTheCoin, this is a dice game that only accepts Dogecoin.
Pocket Dice: Another gem of a site that offers dice games that are very similar to the ones you'd find in a land-based casino.
It's crucial that you shop around to find the best BTC dice site. Look at each of the possible online casinos to determine which has the best options for you. Picking venues based on features and potential benefits will give you the best chance of walking away a winner.
There is a certain thrill watching dice roll, even when it's in a virtual space. Playing Bitcoin dice games with cryptocurrency may be the safest way to play these games. You'll have the benefit of playing some great games while being assured they're both fair and fun.
Other Popular Online Casino Games Available to Play with Bitcoin