Pocket Dice Overview
Pocket Dice revolutionizes the way dice is played online. With its authentic and unique Bitcoin dice gameplay, it definitely stands out in the crowd.
Pocket Dice Bitcoin offers a fresh betting experience that sets itself apart from the common Bitcoin dice websites. Designed to work smoothly in web and mobile browsers, this new online gambling platform is poised to become the next big hit in the dice betting scene.
It entered the market in 2014 and immediately gained recognition because of its cryptocurrency nature. This platform only accepts Bitcoin for payments and has three languages that are available for its players: English, Russian, and Chinese.
Pocket Dice Pros & Cons
Pros
Unique dice game
Mobile-ready
Instant transactions
Provably fair
Cons
No altcoins accepted
Requires registration
Game library can still be improved
No phone support
Pocket Dice Games
This website has garnered numerous positive reviews because of its uniquely designed dice game. Instead of the typical games that use random numbers and rely on range predictions, Pocket Dice goes back to the basics and sticks to how an actual dice game should look and feel like—rolling two actual dice similar to the dice games played in land-based casinos.
In fact, the whole betting process is absolutely fun and entertaining that even bettors who do not fancy betting on dice will be interested in placing a bet just to feel the experience. It is also absolutely simple, easy, and enjoyable that even beginners will have no difficulties playing this Bitcoin dice game.
Moreover, this dice game is guaranteed to be free from any cheats and manipulations since it takes advantage of the provably fair system. As a result, players can be confident that each dice roll is accurate and reliable, and that they can verify each game process themselves.
Software Features & Graphics
This dice site did a splendid job designing its platform. Powered by proprietary software, this Bitcoin dice site features crisp and inviting graphics that are on par with big-time Bitcoin casinos. Everything is laid out in an organized manner; therefore, players will not have difficulty navigating the site and playing the game.
Account
Since Pocket Dice operates directly on the Bitcoin network, anonymity is assured. To register for an account, you only have to provide your username, email, and password. Another way to sign up is to link your Facebook account and use it to access the game. Two-step verification is also available here for added security.
Pocket Dice Imagery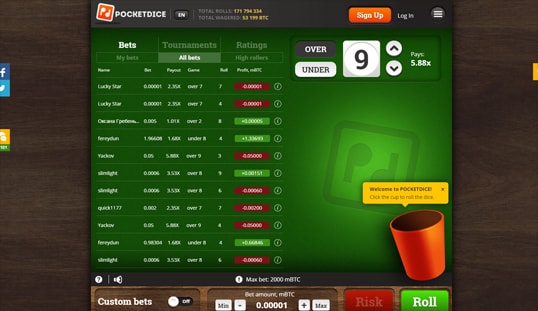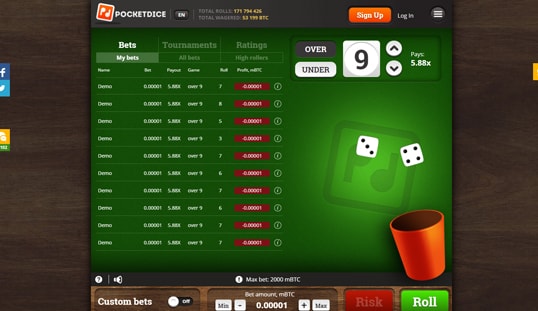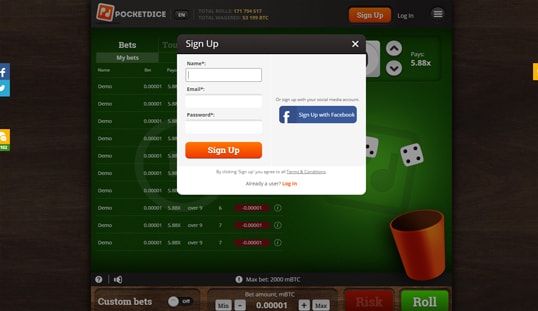 Withdrawal & Deposits
When it comes to Bitcoin payments, you can expect hassle-free transactions, whether in depositing or in withdrawing funds. In fact, the website's wallet address is already posted in the Deposit section, and it even provides an option to send the address to your registered email.
Meanwhile, cashing out requires one confirmation of the deposits, as well as a transaction fee of 0.2 mBTC. Withdrawals that are at least 0.5 mBTC are the only ones allowed for processing, so ensure that your cashout meets the requirements before requesting for a withdrawal.
Bonuses & Promotions
Apart from having a uniquely designed dice game, Pocket Dice is flocked by bettors because of its lucrative bonuses. First time depositors are welcomed with a 100-% Deposit Bonus. Their second deposit also comes with a 50% deposit match. Ultimately, players with no funds at all can gain free bitcoins via the platform's Bitcoin faucet.
Mobile Games
As mentioned earlier, Pocket Dice is designed to effectively operate on any mobile devices. Therefore, you can expect a fluid dice game experience with this dice site. Also, there is no need to download any app or program to run Pocket Dice. All you have to do is enter its URL on your mobile browser to start rolling.
Support
Players having difficulties or queries can reach Pocket Dice's customer support by filling out the contact form on the website. Of course, email support is always a safe choice to reach the management.
Helpful Links
Frequently Asked Questions
The Pocket Dice game can certainly be beaten, but you can also lose. That's what gambling is all about. Try your hand at the pocket soccer dice game if you want to switch things up. Good luck in trying to win!
While Pocket Dice doesn't accept any altcoins, you can certainly play Pocket Dice with bitcoin. It's the easiest way to get in the game. No worries about using a credit card or third-party payment provider to start placing wagers.
The Pocket Dice interface is really simple to use. Guess whether the next roll of the dice will be under or over the number featured in the top right of the screen. Select a wager amount to put down before the next roll of the dice and you're on your way!
Auto roll allows you to select the amount you're willing to wager and then it automatically rolls the dice for you. Winning is as simple as getting the dice to roll in your favor. It doesn't require any effort on your end, but it will leave you at the edge of your seat.
Pocket Dice operates directly on the Bitcoin network which means you don't have to hand over identification and go through Know Your Client verification. Any US players are welcome to play Pocket Dice.
Pocket Dice entered the market in 2014 and has established a legitimate reputation ever since. Playing pocket dice with Bitcoin is a unique experience that has captivated the market over the last seven years.