When we hear the word wallet, we usually visualize the physical object, aka the 'pocket-sized flat folding case for holding money and plastic cards.' However, in the realm of cryptocurrencies like Bitcoin, the meaning of the word has been redefined into something new entirely: Introducing, the Bitcoin wallet.
How to Setup Bitcoin Wallet for Beginners
Cryptocurrencies like Bitcoin are digital assets which can be stored on different types of digital as well as physical wallets. Needless to say, when something has monetary value, whether it's a digital currency or physical asset, wallets for keeping these assets naturally evolve and adapt.
On similar lines, some of the best Bitcoin wallets have evolved in the market. In this introductory guide, we'll answer the following questions.
Why you need a Bitcoin wallet?
How to choose the best wallet for your bitcoins?
How to set one up for your bitcoins to store your coins safely.
We'll go over these questions and catch you up to speed with how a Bitcoin wallet can be properly utilized.
Best Crypto Gambling Sites 2021
#1
Bovada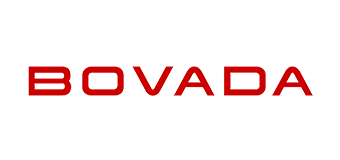 #2
mBit Casino

#3
BitcoinCasino.us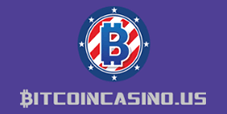 View more
What is a Bitcoin wallet?
A Bitcoin wallet is a place where the private keys and public keys/public address of your bitcoins reside, it is similar to a bank account for cryptocurrency. From this place, you can send, receive, store and make bitcoin transactions. A public key is an alphanumeric string on which the coins reside, and a private key is another alphanumeric string that unlocks coins residing on this public key/public address to be moved to another address.
A Bitcoin wallet should be viewed as a file which contains the public as well as private keys. Now, this file can be a digital or physical file, which we will discuss later.
In short, a Bitcoin wallet is a place where you have the public key/public address to receive and store your bitcoins and the private key to spend and unlock these coins is a Bitcoin wallet. Without it, you won't be able to use bitcoins safely, and it is highly likely, you will end up losing your coins.
Choosing a Wallet
While choosing the right Bitcoin wallet for you, you need to vet a wallet based on the following criteria:
Security & Back-up: a wallet which is providing 2-FA authentication, Seed recovery, passphrase, and PIN code feature.
Custodianship: where you control the custody of your funds by controlling your seed or private keys.
Development Team: the team developing the wallet is active and accessible for the maintenance of the wallet
Compatibility: wallet compatible with different operating systems and across different devices.
Convenience: the UI & UX of the wallet needs to be convenient enough for beginners as well as advanced users.
Community: it is good to have an active community of users who are already using the wallet for some time. This serves as a testimony for the wallet's quality.
Finding a wallet that satisfies all of these points can be tricky. Custodianship is the most important point identified above.
Custodial Wallets (3rd Party wallets)
When choosing wallets where they don't give you the private keys or seed of your Bitcoin wallet, you are selecting a custodial wallet. In this case, the keys or seed are in the custody of the third-party wallet service which you have chosen. They hold the keys on your behalf on their servers.
Non-Custodial Wallets (Self-hosted wallets)
When you choose wallets that provide you the seed or private keys initial during the set-up, you are selecting a non-custodial wallet. This type of wallet is also called self-hosted wallet, where you remain in full control of your Bitcoin wallet.
It is wise to use a non-custodial wallet where you depend only and only on yourself for the safety of your coins. This also goes with ethos of Bitcoin for which it was conceived.
But there is more:
A Bitcoin wallet is merely a digital or physical file. Based on this segregation, there are broadly five types of Bitcoin wallet available in cryptosphere:
Mobile Wallet
Desktop Wallet or Software Wallets
Web Wallet
Hardware Wallet
Paper Wallet
Let's dive into each of them:
Mobile Wallets
As apparent from the name, iOS and Android wallet apps installed on your mobile devices are mobile wallets for Bitcoin.
They are like other mobile payment apps which you might have used with your fiat currencies. However, the only difference is, these are cryptographic wallets capable of storing digital assets like Bitcoin.
In other words, it is storing your private and public keys of Bitcoin on a mobile app. It's important to note that some mobile wallets provide you the seed or private keys, while some don't. But, it is best to have the seed or private keys of your Bitcoin with you.
Desktop Wallets
Desktop apps for Mac, Windows, or Linux like operating systems capable of storing cryptographic assets like Bitcoin are desktop wallets.
Just like mobile wallets, some software wallets don't provide you the private keys or seed. Although, many do provide it, so choose accordingly.
Web Wallets
Web wallets are accessible directly via different web browsers (such as Google Chrome, Firefox, and IE) and some of these are custodial wallets, and some are non-custodial.
In the case of custodial web wallets, the private keys of Bitcoin are held on the third-party servers of the web wallet you are using. Whereas in non-custodial wallets the private keys or seed are encrypted in your browser itself for which you are given the password.
Hardware Wallets
Hardware wallets are special-purpose hardware devices powered by minimalistic electronics capable of handling private and public keys.
The hardware devices store the private and public on a standalone microcontroller. They can work with malware-infected systems too, making them the most reliable category of Bitcoin wallets.
These wallets come in all sizes and shapes. Some look like a flash drive, some like a chained watch pendant, and some look like debit/credit cards. This type of wallet is considered a cold storage wallet and is one of the most secure methods of storage for cryptocurrencies.
Paper Wallets
Paper wallets are the most minimalist type of Bitcoin wallet as they are simply pieces of paper printed with private as well as public keys on them.
Unfortunately, paper wallets are cumbersome to use and thus vulnerable to expose your private keys to an attacker. Moreover, when we have software and hardware wallets, there's little reason for using paper wallets in 2020.
Recommended Bitcoin wallets (for USA users)
Ledger Nano X [Hardware Wallet]
Ledger Nano X is the newest breed of hardware wallet launched earlier this year by Ledger SAS-a pioneer company acting in this space since 2015. The wallet has the much-needed Bluetooth feature and a battery, which makes it ideal to be used directly with iOS and Android devices.
Moreover, it is a non-custodial HD wallet where you can be in full control of your digital assets. As of now, Ledger Nano X supports 1000+ cryptocurrencies including Bitcoin and is rapidly becoming the first choice for serious Bitcoin HODLers.
Blockchain Wallet [Web & Mobile Wallet]
Blockchain wallet is a pioneer web as well as mobile wallet serving the needs of Bitcoin holders since 2013. The web version came first and is used by millions of Bitcoin users already testifying the quality of their product. Moreover, it is a self-hosted wallet where you will control the private keys or seed of your bitcoins if you store your coins here.
Exodus [Desktop Wallet]
Exodus is a free desktop wallet for Bitcoin and has the best UI-UX in the market. It features an informative pie-chart representation of the digital assets stored on Exodus.
If you want something elegant as well as secure to store your bitcoins on your desktop, Exodus wallet is for you. Note: Exodus is available for Mac, Windows, Linux.
Electrum [Desktop & Mobile Wallet]
Another free and open-source Bitcoin wallet for desktop and Android devices is Electrum. The UI of the wallet is decent and is developed as well as maintained under the MIT license.
This wallet too is non-custodial and is a lightweight wallet that can be installed on your Mac/Windows desktop or Android device.
Setting up Your Wallet: How To Setup Bitcoin Wallet?
Now that we have seen different types of wallets and learned how to choose the best, it is imperative to set up one wallet for your coins. So, let's jump right in and use a Blockchain wallet to see the step by step process of setting up your Bitcoin wallet.
Step #1. Go to Blockchain.com and click on 'sign-up' as shown below.

Step #2. Now fill in the details like your email address, password, etc. as per the below image: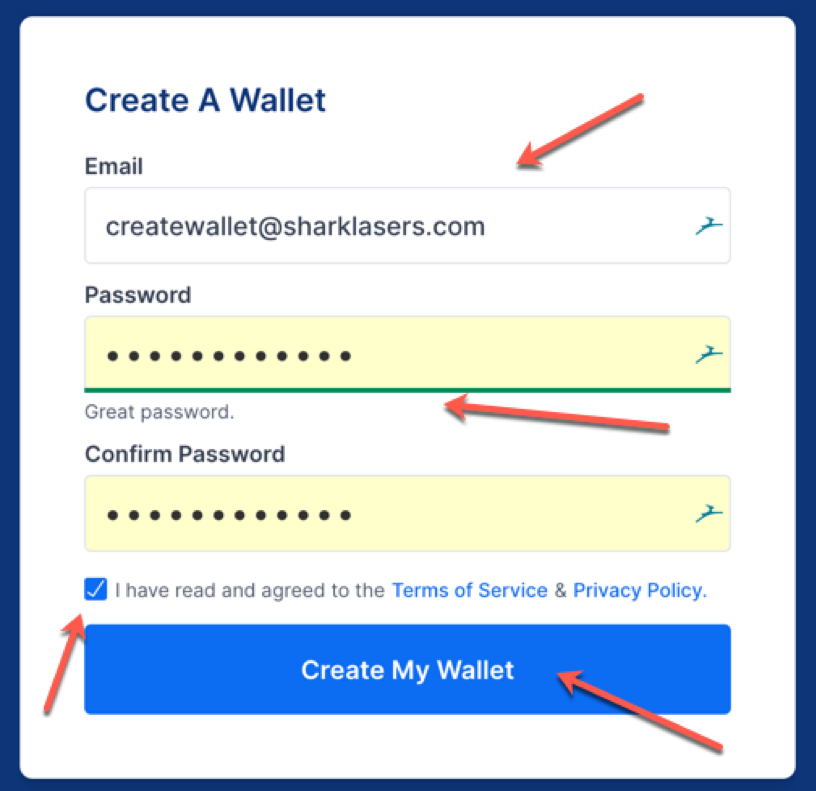 Step #3. Click on 'Create My Wallet' option as shown above. Wait for a few seconds and you will be taken to this screen welcoming you into the wallet. On a side note, make sure to verify your email address for this account by going to your inbox.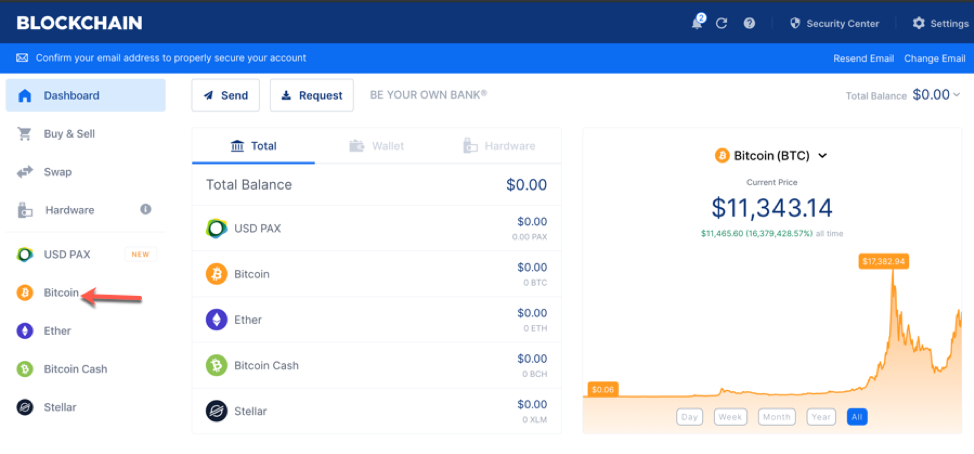 Step #4. Go to 'Bitcoin' option as shown above to see this below-shown screen which will further help you get your Bitcoin public address to receive bitcoins.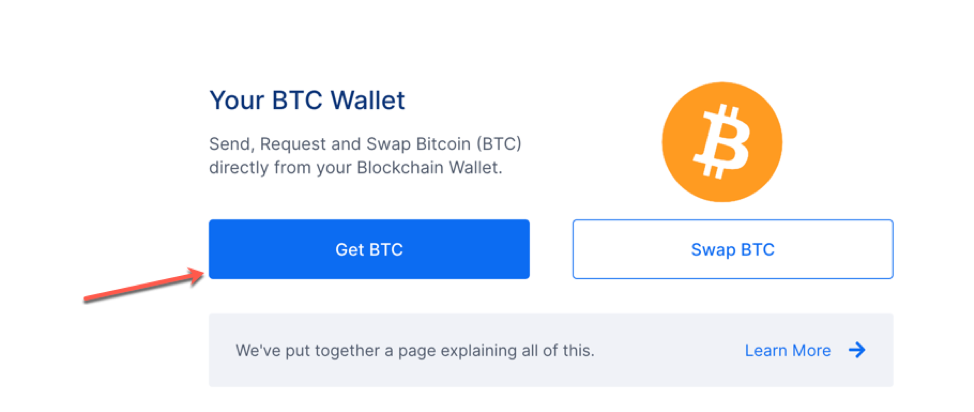 Step #5. Now click on the 'Get BTC' option as shown in the above image and you will be shown this screen with your Bitcoin address.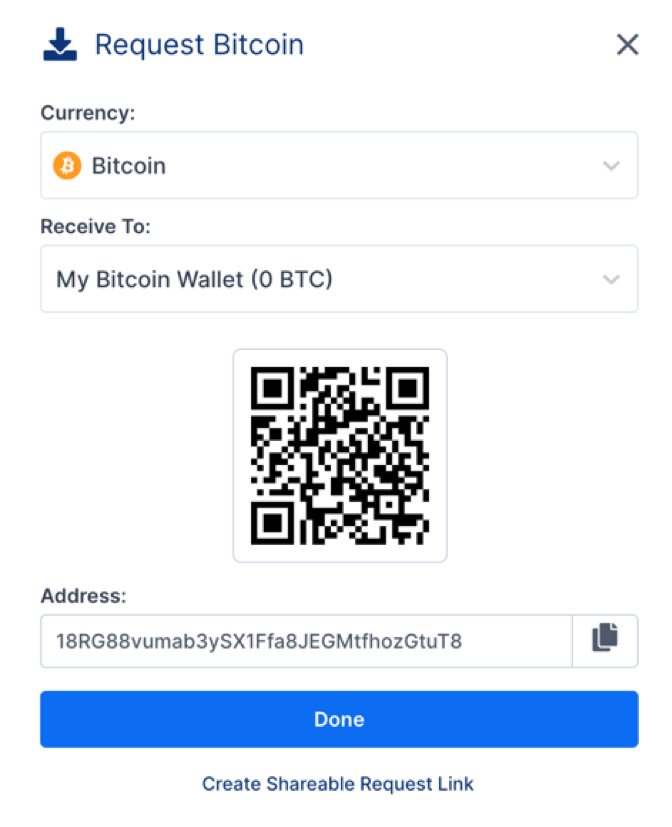 Step #6. Now, you can copy-paste this address or use the QR code to give it to others so that they can send Bitcoin on this address.
Step #7. Last but not least, a very important step in creating a secure Bitcoin wallet is to write down your seed phrase. This is often referred to as backing-up your wallet so that you can recover your funds in case blockchain wallet stops working.
For this go to the 'Security Center' section of the Blockchain wallet as shown below in the image: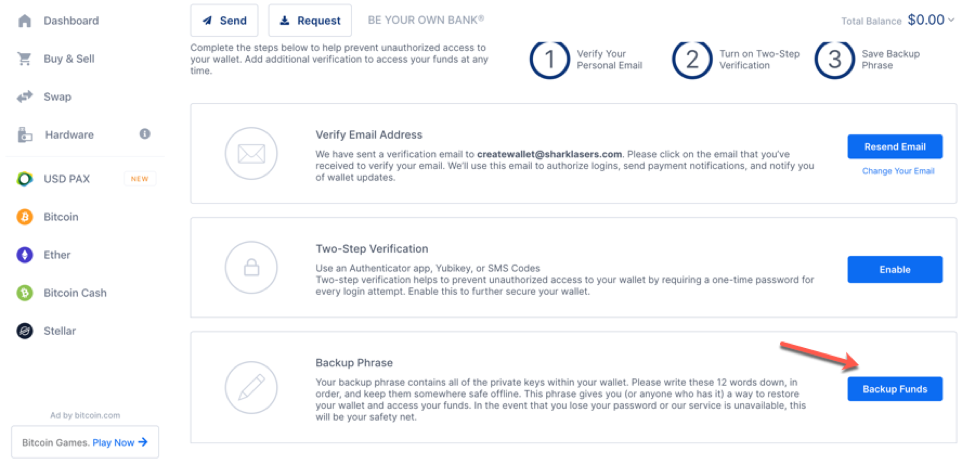 Now click on 'Backup Funds' option:

Click again on 'Backup Funds' option as shown below: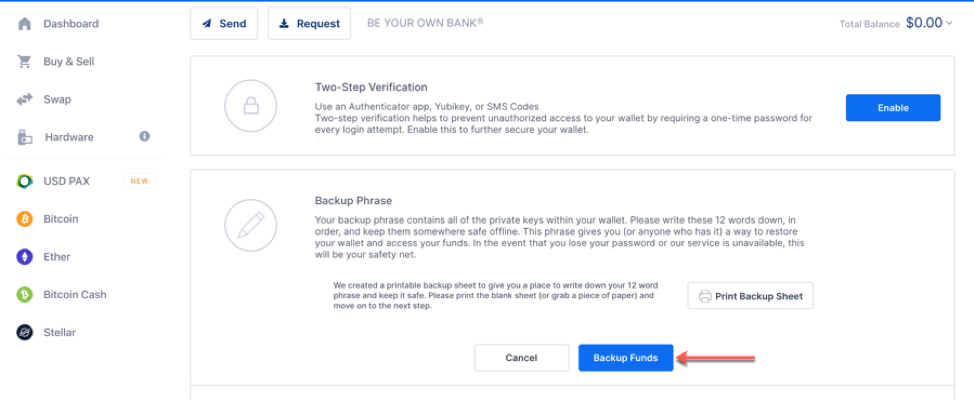 As you do this, it will show you the first 4 words of the 12-word seed. Make sure to note this down securely on a piece of paper.

Again, click on 'Next 4 Words' and you will be shown the next 4 words which also you need to write it down in a sequential manner:

Lastly, click on 'Next 4 Words' to see the last 4 words your 12-word seed and these will be shown in this manner:

Note down these last 4-words too in a sequential manner until you get this type of list of 12-words: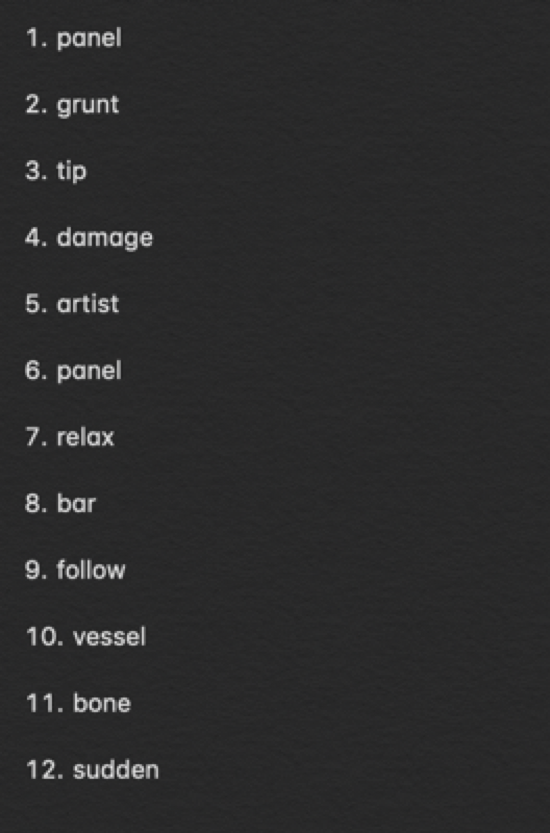 Now click on 'Finish & Verify' as shown in the previous image and you will see this screen asking you to enter specific words to verify whether you have backed-up your seed phrase properly or not. So, do this as illustrated below by referring to the above list of 12-words. Then click on 'Confirm' after entering the relevant words as shown in the below image.

Finally, you will see this screen informing you about the successful completion of your seed phrase backup.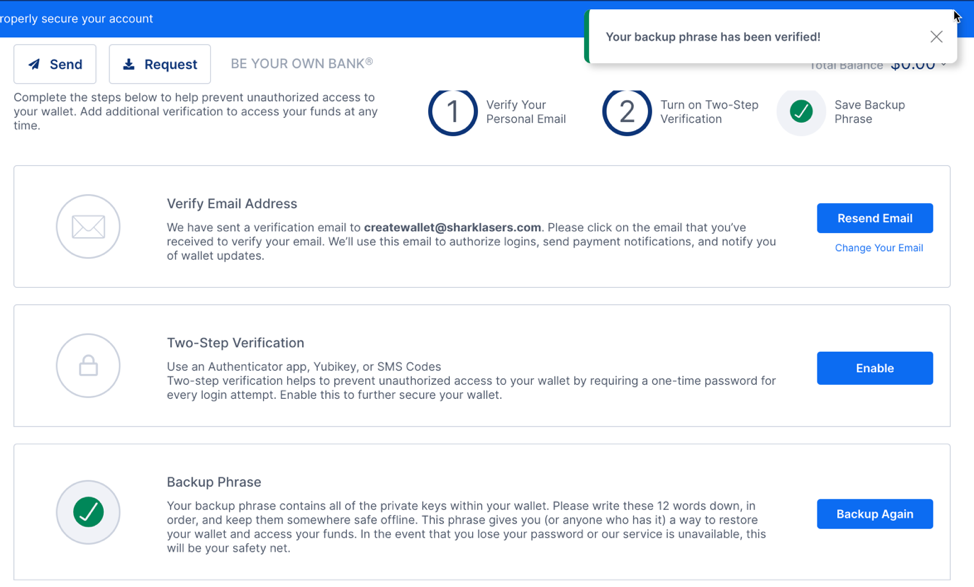 This is how you can create a secure Bitcoin wallet and also keep a safe backup of it.
But the real challenge to take care of your bitcoins starts from here, i.e. once you have taken the backup of your seed phrase.
Keeping Your Wallet Secure
Your seed is your bitcoins. The moment you lose your seed phrase, you lose your coins.
That's because anyone in possession of this seed will be able to derive your Bitcoin private keys and hence control your coins.
To avoid this kind of fate, you can do these basic things for keeping your wallet secure:
Make multiple backups of your 12-word seed phrase.
Do not jumble or split your seed phrase.
Ensure you have enabled 2-FA authentication on your Bitcoin wallet if it has one. Blockchain wallet provides that for Bitcoin users.
Laminate the piece of paper on which you have written your seed and keep it in a safety vault which is fire and waterproof.
Make sure your seed phrase is known to someone close, in case you are no-more from tomorrow due to unforeseeable reasons.
At last, you can adopt hardware wallets or at least non-custodial wallets to keep your coins secure even if your mobile or desktop device is malware-infected.
If you take care of these things, you will be able to dodge 99.9% of attack vectors, and your bitcoins will remain safe.
Now you're on your way to purchasing Bitcoin. Check out our guide to purchasing crypto now that you know to set up a Bitcoin wallet.