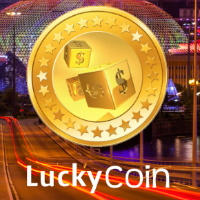 LuckyCoin (LKY) is another Bitcoin-derived peer-to-peer cryptocurrency. If you're new to Bitcoins, you can always know more about what is Bitcoin. Just like any alternative cryptocurrency, it offers almost instant transaction in addition to anonymity and security it brings to the users. Sending and receiving money is made fast and easy in just one click. Furthermore, it provides several advantageous features that you can't find in other alternative coins.
Features of LuckyCoin (LKY)
The LuckyCoin network is expected to produce 20 million LKYs.
It offers super lucky blocks for miners, which give jaw-dropping reward than can be x2, x5, and even up to x58.
LukcyCoin requires 6 network confirmations per transaction.
It uses an accelerated difficulty adjustment algorithm to ensure fairness.
Block generates in as fast as one minute.
LuckyCoin (LKY) Gambling
Just like most alternative cryptocurrencies, LuckyCoin has just been established. However, this does not stop this altcoin from getting into the domain of online betting. With easy and speedy transaction, LuckyCoin is a good payment method to any betting platform just like Bitcoin and Dash.
While there are numerous LuckyCoin users, LuckyCoin (LKY) Gambling is still a new thing online; hence, there are very little gambling sites that accept LKY as a mode of payment. One of the most popular betting platforms that support LuckyCoin is 16BitBet.
16BitBet – This online gambling site supports several alternative cryptocurrencies including LKYs. It offers a unique betting feature wherein players bet on the outcome of the same hashing functions they use to mine LuckyCoin. They take the player's transaction ID and a daily secret to calculate a number from 0 to 65, 535. The player will win if the number drawn is lower than the option he/she has chosen.
To get into LuckyCoin (LKY) Gambling, you must have a LuckyCoin wallet since this will allow you to send and receive coins. Like Bitcoin, it can be acquired in trading markets and can be exchanged using fiat currency like USD or another cryptocurrency like Bitcoin or Litecoin. On the other hand, mining is also an option; just that it requires time, effort, and energy. Once you have LKYs in your wallet, go to gambling sites that accept LuckyCoin. Make an account if required, bet, play, and get your earnings almost immediately.
Sooner than later, LuckyCoin gambling will sure take a good role in online betting much like Bitcoin gambling. It offers numerous perks that can boost anyone's online gambling experience. More than that, compared to other altcoins, it shows a positive market performance and stability giving it a potential to be the next Bitcoin or Litecoin in the domain of gambling.