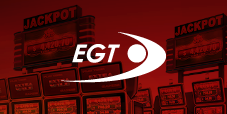 Euro Games Technology (EGT) is a Bulgarian company that makes slots and gambling game terminals for physical casinos. The team uses their technical know-how to create solutions that apply to Bitcoin casino software. One of the gambling sites featuring its gaming products is 1xBit.
EGT is popular for creating games that have straightforward features. The team also creates games with progressive jackpots.
Online software
EGT slots simply focus on offering some usual staples of slot games. These are free spins mode and a bonus shell game that has you choosing some objects that contain hidden prizes. The graphics are not as intense as those of other game developers. But the slots' graphics are generally pleasing to the eyes.  The house edge for each slot of the company goes around the range of 3% to 5.5%.
What make this developer stand out from the rest of the crowd are its progressive jackpot games. This type of jackpot is a growing prize pool that increases as a person keeps playing. While other companies might only have a handful of games that have this feature, almost all of the slots have a progressive jackpot.
It is also important to note that EGT slots do not increase its house edge. Slots that have a progressive jackpot tend to increase its house edge to keep the massive prize pool out of reach from anyone. Thanks to this developer's flat house edge, you have a good chance at taking home the jackpot from the fiat and Bitcoin slots.
Almost all of its solutions come from the physical cabinets or kiosks. The team behind the company makes sure that every aspect of the online version of the game will work as flawlessly as its physical version.
Physical casino
EGT's strong feature is the company's ability to create casino kiosks, cabinets, and other types of hardware. One example is its Premium Link jackpot system. The cabinet uses different games on each screen. However, all games share the same progressive jackpot amount. The display screen at the top of the cabinet will show everyone how much is the prize up for grabs.
Another example is EGT's multiplayer tables. These tables include a virtual roulette type of game that allows you to place your bets on a touch screen. The roulette wheel will spin and run the game even without a live dealer. A casino operator has many types of tables and kiosks to choose from that are suitable for the gambling floor.