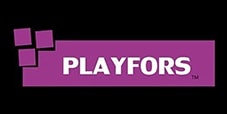 Playfors is an online gaming platform that offers several services that include games, casino website, admin back end, and an integrated affiliate system. This one-stop shop banks on flexibility that greatly benefits operators, and in turn, provides players with superior-quality Bitcoin gambling.
It takes pride in its 18 exclusive games that were developed from scratch, and therefore, features game engines for Bitcoin slots, table games, sports, video poker, bingo, and lottery. In fact, these games are available on Bitcoin betting sites like PlayCoin Casino, Unicoin Casino, 88BitcoinCasino, and 88RussianRoulette.
On top of these mobile-friendly games, however, operators who have acquired its online casino package are now able to integrate over 150 games and a live dealer casino into their casinos because this gaming platform has already partnered with BetSoftGaming and Ezugi.
BetSoftGaming, which boasts numerous high-end, graphics-rich games, strengthens the game library while Ezugi, which is known for its real-time games of Bitcoin blackjack, roulette, baccarat, lottery, and even keno among others, expands the appeal of casinos by providing realistic casino experience.
Aside from its powerful games, this gaming platform also offers several WordPress templates that are free for all operators. Their designs can be modified and the content elements are adjustable to suit certain preferences. Through the package, operators can rely on the Playfors team to manage the design and content layout of their websites should they desire that setup.
Meanwhile, real-time monitoring of the games, website, and even the bonuses and wagering requirements settings are available in the admin back end, which is highly intuitive and responsive. Working side by side this is the integrated affiliate program that features innovative media and marketing tools. This setup comes for free to all operators, and is regarded as the only real-time affiliate program designed for Bitcoin online gambling.
All these services are available through its online casino package, so operators who choose this online gaming platform to power up their Bitcoin casinos and gambling sites are guaranteed to get their hands on the promised flexibility and convenience. What is even better is that if they deem it more appropriate to leave the tasks of completing their online gaming businesses to the professionals, they can do so by acquiring the services offered by the Playfors team and its partner. This, however, comes with extra costs.
Providing top-notch assistance and software solutions that meet the trends and demands in online and mobile gaming markets, this gaming platform Playfors, which is initially designed for the digital currency Bitcoin, is open to support alternative cryptocurrencies that are making headlines in the world of online gambling. Progress in this area broadens the reach of its services, and therefore, will succeed in creating a name in the industry.
It is clear that Playfors is more than capable of providing innovative solutions to the growing online gaming markets. It has a range of premium products and services that are included in one online casino package that proves to be the best option for Bitcoin and other cryptocurrency gaming.