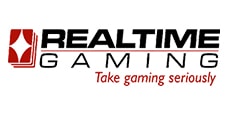 Software providers are the backbone of the online gambling industry. They provide the software that runs the entire business, from games to platforms for gaming. This is why partnering with the right Bitcoin casino software is important. One of the oldest providers out there is Realtime Gaming, which first opened its doors in 1998.
Realtime Gaming provides online casinos with both gambling platforms and games to run on these platforms. Operators have trusted the provider for years now and a whole generation of players has played their games. They have a lot to offer any potential operator.
Downloadable clients and in-browser play
When the online gambling industry started, Realtime Gaming offered downloadable clients. This is because, in the past, this was the only way to ensure player's security and smooth gameplay. The software is optimized and should be very simple to use. However, technology has marched on and a lot of online casinos nowadays operate directly in the browser. This software provider has adapted to this and you can expect to play its offering without any need for a download.
There are marked differences, though. Realtime Gaming's downloadable clients are a bit better than their Flash counterparts. The graphics are crisper, the response time is faster, and overall the experience is much more enjoyable. For convenience, though, its in-browser games still manage to deliver the core of the experience. As for the games themselves, players will love them.
Besides the gaming software, it has also further adapted by ensuring that all of the software is mobile-friendly. With the rise of mobile devices, more and more gamblers are playing via their smartphones or tablets while on the go. Realtime Gaming recognizes this and has developed software that will allow players to enjoy the gaming experience while on the go. Combined with a solid back-end that gives maximum control to the operator, it is a definite go-to developer.
Hit games
Realtime Gaming has managed to make a ton of games over its long history. With nearly 20 years of operations, the company has managed to come up with games for all genres. It has slot games, card games, and more are available in its product catalog. It even has a sportsbook open for players.
Slot games are a favorite in the online gambling industry because of its simplicity. Just click on a button and the reels will spin. This game content provider acknowledges this by developing a lot of slot games. This includes fun thematic games like Eternal Love and Enchanted Garden. Operators are allowed to modify the pay tables, giving them the chance to be as generous or as stingy as possible. It even has progressive slots available, which can deliver large jackpots to lucky players.
It is not just slot games that this developer offers. The company has produced card game software for a variety of rulesets. This includes baccarat and blackjack. Table games like craps and roulette are also available, with good odds for the player to win.
Overall, Realtime Gaming's long experience in the field makes it a dependable name that both players and operators can trust.