Forex trading has been considered as one of the tricky financial instruments, both online and offline. It is not as simple as trading binary options since it requires significant levels of skills in order to guarantee more gains than losses. Regardless of its seemingly intimidating appeal, it still proves to be a great option to watch the investments grow. This is most especially true if cryptocurrencies are used.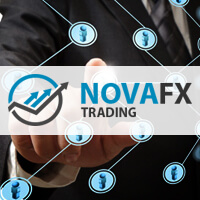 Fortunately, there is a growing market for Bitcoin forex trading, although Bitcoin binary options still proves to be the easier of the two. Still, it is always reassuring to find forex trading platforms like Nova FX Trading, which provides leveraged trading using the digital currencies.
To make this even better, this MT4 trading platform also supports Litecoin. Therefore, Bitcoin and Litecoin users can tap the investment opportunities offered here, thanks to its support for cryptocurrency use.
This Bitcoin forex website registers its leverage as 1:3. This enables traders—who may also be Bitcoin gambling enthusiasts—to trade more using less funds. Of course, this is only possible by using the leverage in order to start positions for more bitcoins, along with the funds in the account.
Nova FX Trading offers a minimum lot size of 0.01 and registers a commission rate of 0.5% per lot. Likewise, traders can invest their funds in any of the four available currency pairs: BTC/USD, BTC/EUR, LTC/USD, and LTC/EUR. This forex trading platform is open around the clock, so customers from different countries do not necessarily have to worry about the time they can open buy and sell orders.
Meanwhile, when it comes to transferring funds to the trading account, it is essential to know the different methods available for everyone's use. There are several ways traders can deposit in their accounts. Some even promise to instantly credit your account with the amount deposited. Instant funding is widely preferred, especially by Bitcoin and Litecoin users, since this enables them to begin investing in currency pairs in no time.
On a different note, it is worth mentioning that Nova FX Trading receives its Bitcoin and Litecoin prices from reliable sources. There are actually two sources: Bitstamp and AltoCenter. With the trading platform's initiative to reveal the sources of their Bitcoin and Litecoin prices, it becomes evident that it aims to be as transparent as possible to match the nature exuded by the cryptocurrency.
To begin trading Bitcoin Nova forex, customers must first sign up for an account. The required information needed to successfully register is the full name, the country, a valid email address, and a phone number. Unlike the Bitcoin casinos and other Bitcoin gambling sites, this platform asks for personal information.
Nevertheless, it is interesting to find more forex trading platforms online like Nova FX Trading that also cater to Bitcoin and Litecoin markets. Everyone who is interested can simply try out the platform through the demo account. However, only fiat currencies are available in this mode. Should there be any questions, feel free to contact their live support at any time of the day.