Online and physical businesses can accept Bitcoin payments through a Bitcoin payment processor. Bitcoin payment processors convert Bitcoin to the fiat currency of the merchant's area or their own choosing. The processor integrates a Bitcoin payment option to a business' retail site. Customers who visit the site simply click on a button that might say 'Bitcoin payment' or select 'Bitcoin' in a list of payment methods. When the site receives the Bitcoin payment, the processor converts the Bitcoin into a fiat currency and deposits it to the merchant's account.
Certain Bitcoin processors also have a payment solution for brick-and-mortar stores. They offer machines that allow Bitcoin transactions in physical points-of-sale areas. Bitcoin POS hardware allows customers to pay with Bitcoin using their phone or tablet.
Processors generally do not give Bitcoin bonuses or deposit bonuses.  It is up to the online Bitcoin casino to offer those Bitcoin promotions.
There is a large Bitcoin payment processor selection to choose from. Each processor has its own unique features that are different from the others.
Cubits
Cubits has become the main Bitcoin payment processor among operators in the Bitcoin gambling industry. It offers an efficient and fast brokerage service. Merchants can quickly receive a player's payment when they choose the 'Pay with Cubits' option. Casino operators enjoy Cubit's quick currency conversion when they turn their Bitcoin to fiat deposits. This allows operators to accept international players without any problems.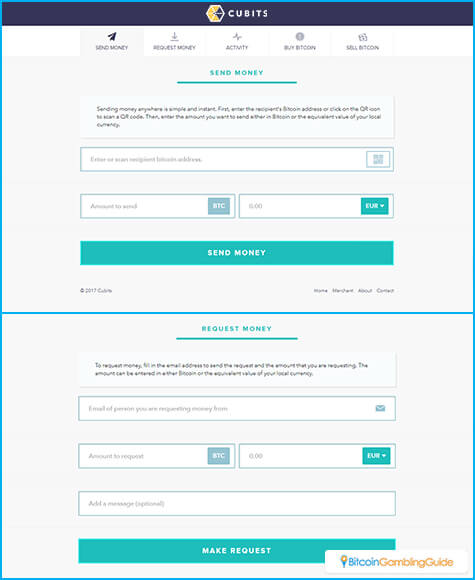 The Cubits model shows that Cubits takes on the role of accepting both Bitcoin and fiat currency payments to Bitcoin. The Bitcoin value will then be converted to fiat before the fund is transferred to the operator. Cubits will take charge in converting the fiat value to Bitcoin, depending on the requested cash-out option of the end-user.
SpectroCoin
While Cubits focuses on fast brokerage service, SpectroCoin has an all-in-one brokerage solution for merchants. SpectroCoin has a physical shop hardware solution that allows customers to make Bitcoin payment in brick-and-mortar establishments and online businesses. Integration of SpectroCoin to a merchant's site is easy and hassle free.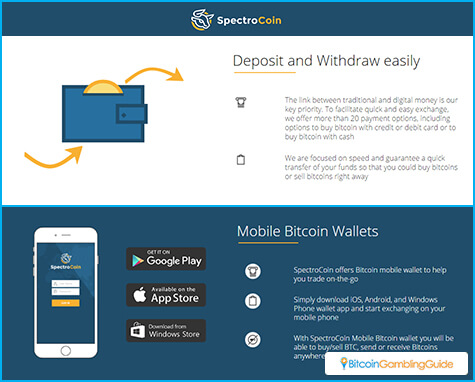 SpectroCoin offers full KYC support and caters to more than 130 countries. It also processes over 20 fiat currencies and provides merchants with round-the-clock assistance. Online businesses that opt for SpectroCoin's payment processing services will receive payments through its API. Paying out customers can be done straight to the Bitcoin address and email address or through the API. SpectroCoin also allows users to withdraw funds using other options like debit cards, bank wire, and more. In the Bitcoin gambling scene, SpectroCoin powers up TonyBet to accept Bitcoin and made Tonybet the first UK gambling site to accept Bitcoin.
Cryptopay.me
The primary trait of Cryptopay.me is its virtual Bitcoin debit cards. Their virtual debit cards let people purchase goods and services with Bitcoins in websites that only accepts credit cards or fiat payment options. Cryptopay's API, which API offers SSL secured endpoints and comes with 99.9 percent platform uptime, is easy for merchants to integrate to their online website. Its API lets merchants create a unique platform that will make it convenient for the customers to pay with their Bitcoin.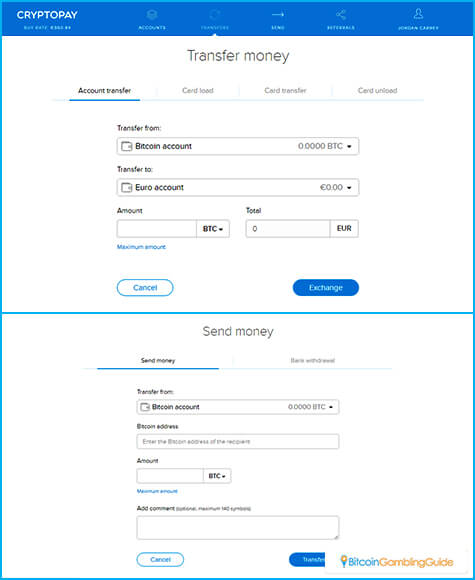 There are also several different tools available for merchants through the use of Cryptopay's API. This includes a Hosted Checkout and iFrame payments. These tools can make it easier for merchants to accept Bitcoin payments.
Through Cryptopay's solutions, merchants can access international markets without having to comply with PCI-DSS and paying high fees.