Coinbase is just hours away from launching a US Bitcoin exchange, the first of its kind to be licensed.
Fresh from the record-breaking $106 million investment from the NYSE and several VC firms, the Bitcoin services provider is at the forefront of delivering better and safer Bitcoin trading transactions to the US customers.
Believed to bear the name 'Lunar,' as per the teaser website announced on the official Coinbase Twitter account, this licensed Bitcoin exchange will guarantee users with complete protection from online theft as well as the assurance to recover funds lost from such incidents.
Coinbase's US exchange is dedicated in creating a stress-free trading environment to prevent the misfortunes that befell on fellow Bitcoin exchanges Mt. Gox and Bitstamp.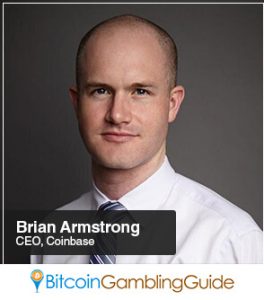 The future of Lunar
Acquiring licenses from 50 percent of the states in the country, including New York, Coinbase still needs to complete the remaining licenses in order to provide nationwide services. However, the San Francisco-based company also has its eyes on global expansion.
"Our goal is to become the world's largest exchange," said Coinbase CEO Brain Armstrong.
While its goal for its Lunar project is commendable, it must first manage to earn a stable position in the market once the other licensed Bitcoin exchange launches.
Entrepreneurs Tyler and Cameron Winklevoss are reported to be introducing a regulated exchange—one that will solidify the confidence of the US consumers to the digital currencies like Bitcoin.
Its implications on the US Bitcoin gambling market
The US is known for its strict regulations against online gambling, pushing players to use Bitcoin as an alternative to experience betting on high-quality games on the web. With a secure Bitcoin exchange, players will less likely become victims to future online hacking attempts on Bitcoin exchanges.
However, Bitcoin gambling enthusiasts in the US may experience slight problems when using this services provider. Last year, it has been reported that Coinbase suspended accounts found to have been linked with transactions dealing with online gambling websites.
Although Coinbase actively discourages the use of its Bitcoin wallet for gambling purposes, this should not stop players from benefiting from the promising licensed exchange set to take off today for their day-to-day use of Bitcoin.